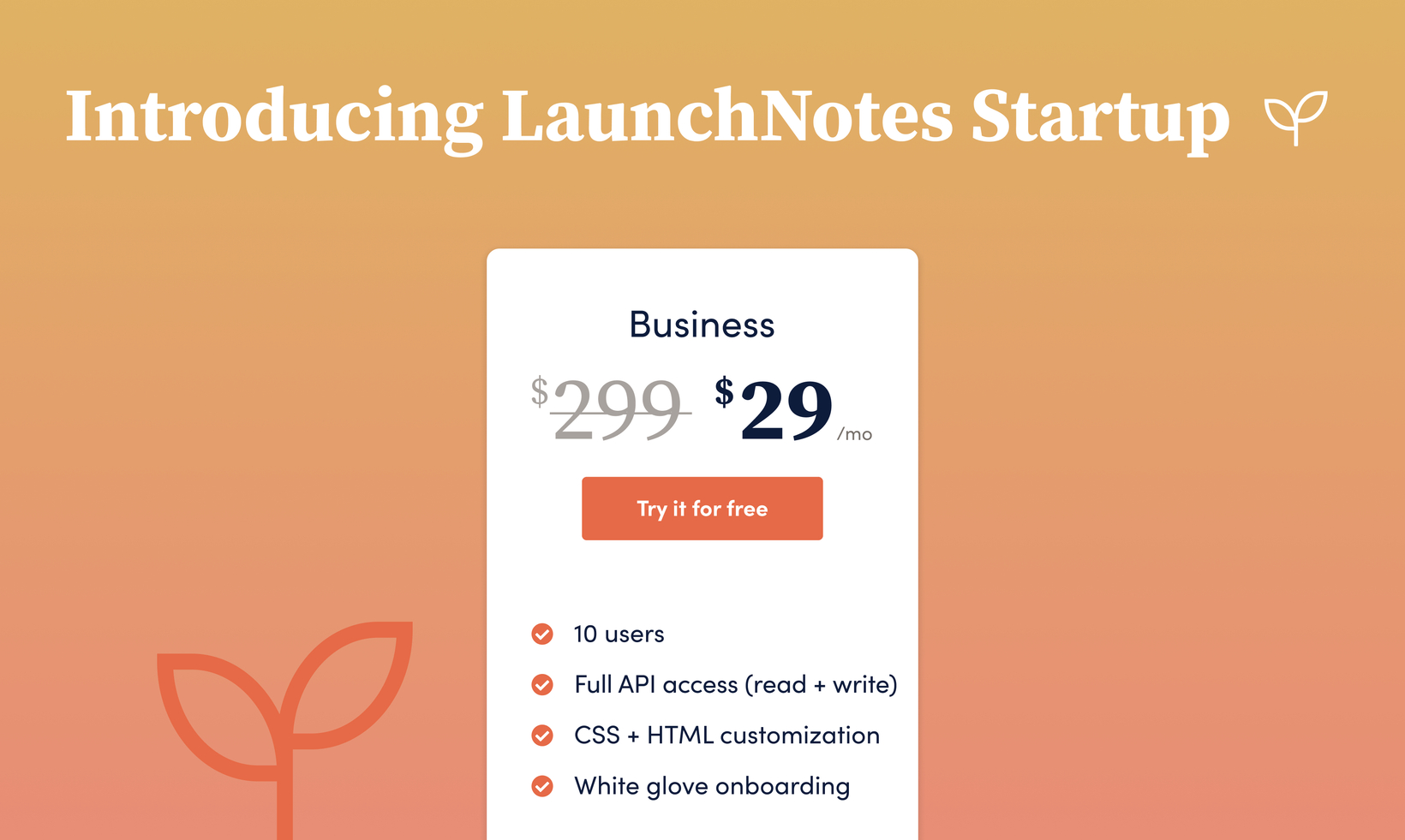 DATE:

AUTHOR:

Team LaunchNotes
Announcing LaunchNotes for Startups 🌱
DATE:
AUTHOR: Team LaunchNotes
One year ago this week, we made LaunchNotes V1 available for the first time. It was simultaneously terrifying and exhilarating to release LaunchNotes into the wild, but looking back it was easily the highlight of the year for our team!
Fast forward 12 months, and it's safe to say the last year has been quite a roller coaster. But as we reflect on the strength of our business today, one thing could not be clearer: our company wouldn't have made it this far without the dozens of tools that gave us generous discounts as we were getting our engines firing. Taking any company from zero to one is incredibly challenging, and we know firsthand how impactful each and every helping hand can be.
Today, we're excited to pay it forward for the next wave of early-stage companies.
Announcing the LaunchNotes Startup program
Beginning today, any startup that's Seed-stage or earlier is eligible to receive 90% off LaunchNotes Business for 12 months. In other words, we're offering $3,588 of value for only $348! And because we know how tight budgets are in the early days, you can pay monthly or annually... whatever suits your needs.
LaunchNotes Business is packed with goodies including 10 seats, your own branded LaunchNotes page and public roadmap, complete control of the CSS and HTML, full access to the LaunchNotes API, white glove onboarding, and much more.
Already have your own "what's new" page or changelog that you need to import? We're happy to do that for you. And if you need a way to collect and analyze customer feedback, we'll even include our new Customer Feedback Manager at 90% off as well.
Scale your business faster with LaunchNotes
It's undeniable that showcasing consistent product momentum and driving high product engagement, especially in the early days of your business, is vital to keeping your users happy and engaged, winning new business, and attracting investors. Our hope is that our new Startup program will allow you to do all three... and more!
Apply today 🚀
Interested in applying for our Startup program? Simply begin begin a free trial of LaunchNotes and then shoot a quick note to startup@launchnotes.io with a link to your Crunchbase profile. If you're a Seed-stage company or earlier, we'll apply the necessary coupon to your account and you'll be off to the races.
Already a customer and wish to apply? Just shoot a note with your Crunchbase profile to us through Intercom and we'll take it from there.
Other questions or concerns? Anything else we can help with? Reach out any time: hey@launchnotes.io