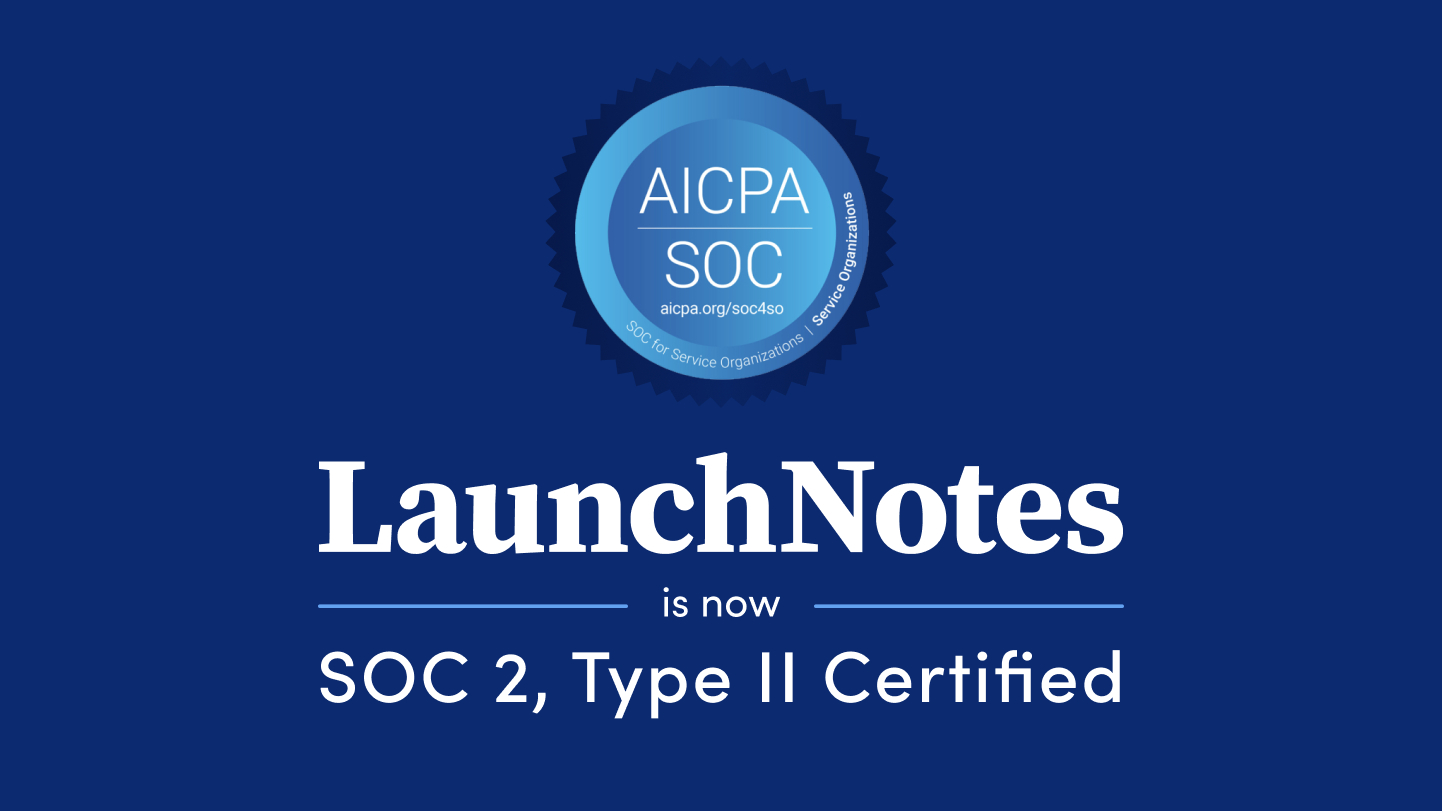 DATE:

AUTHOR:

Team LaunchNotes
Meta
Private pages
Public pages
Administration
Announcing LaunchNotes' SOC 2, Type II certification
DATE:
AUTHOR: Team LaunchNotes
As data breaches are reported by small businesses and enterprises around the world every day, it's no longer enough to say you have good security practices in place. To provide the services that deliver the availability, security, processing integrity, and privacy that today's enterprises require, SOC 2, Type II is the gold-standard certification and report to prove it.
With that in mind, today we are proud to announce we have earned our SOC 2, Type II certification. This certification is an in-depth examination of our systems and demonstrates our ongoing commitment to having the necessary controls in place to mitigate risks related to enterprise-grade security, availability, confidentiality, and integrity. And, as the stewards of sensitive product development information for hundreds of enterprises across the globe, we are particularly thrilled to be announcing this exciting milestone.
Our SOC 2, Type II certification provides our customers with peace of mind in four particular areas: 
Commitment to security & privacy: Achieving SOC 2, Type II certification demonstrates our ongoing commitment to taking the security and privacy of our customers' data seriously

Meeting all industry standards: SOC 2, Type II certification is documented proof LaunchNotes met the requirements of an examination that took place over a period of time for different industries while remaining compliant with industry and regional regulations

Protecting sensitive data: Our SOC 2, Type II certification ensures we have implemented effective controls to protect sensitive data from unauthorized access, theft, or other security breaches

Risk management preparedness: Certification has ensured we have the processes in place to proactively identify, address, and protect the security, availability, and integrity of our systems and services that help us manage and mitigate risk for our customers
Thank you
Our SOC 2, Type II certification would not have been possible without the partnership of our good friends at Drata, as well as the great team of auditors at Sensiba San Filippo LLP, an independent third-party firm certified by the American Institute of CPAs (AICPA). 
If you have any questions related to our SOC II certification or report, please don't hesitate to contact us any time at support@launchnotes.io.