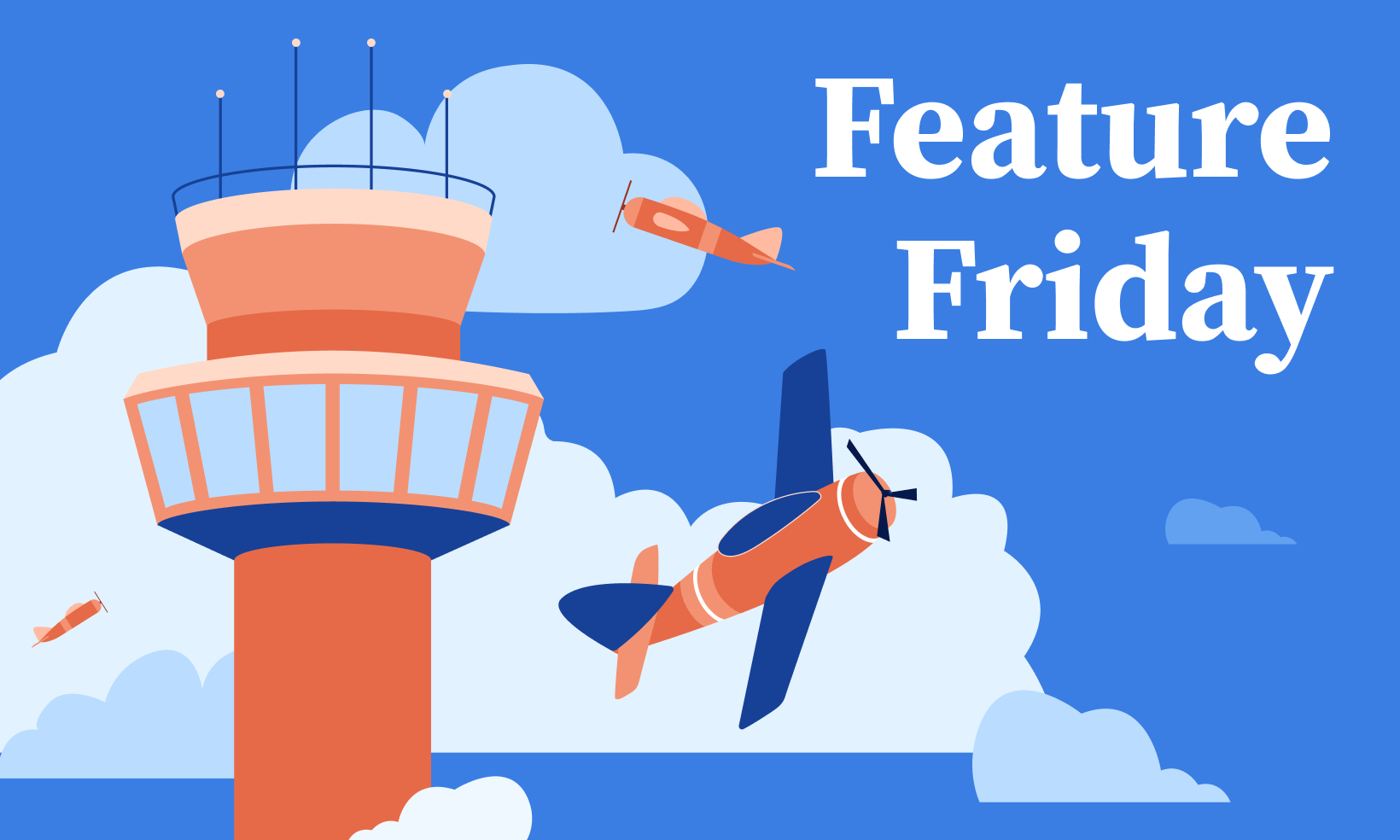 DATE:

AUTHOR:

Team LaunchNotes

RELATED ROADMAP ITEMS:
Announcements
Notifications
Roadmap
Feature Friday - April 29: Upcoming Improvements to Subscription Notifications 🔔
DATE:
AUTHOR: Team LaunchNotes
We're thrilled to announce a number of updates to the subscription notification system that will be landing next week!
Timeline
Next Tuesday we'll be releasing an improved subscription model. We've been carefully updating our code over the past few months in preparation for a smooth and reliable transition, and on May 3rd we're going to flip the switch and begin reading from the new subscription table. Assuming everything goes smoothly, we'll likely be officially announcing the change on May 4th!
The team has been hard at work testing these changes up, down, backwards, and forwards. And we're now ready (and excited!) to make the jump.
But enough technicalities, let's get into what's changing!
What's New with Subscription Notifications
More targeted communication
In our ongoing effort to improve the #signal-to-noise ratio we've updated one of the rules that determines who should be notified when a new announcement is published.
Old Subscription Model: An announcement with no categories and no roadmap items selected sends to all subscribers

New Subscription Model: An announcement with no categories and no roadmap items selected sends to no subscribers

More reliable notifications for subscribed items
We've identified and addressed a case in which it would have been possible for a subscriber to not receive a notification for a roadmap item they had subscribed to. This would happen if they were not subscribed to one of the announcement's selected categories. 
We also identified and addressed a case in which, in rare circumstances, a subscriber could be notified about the same announcement twice.
In our new subscription model, subscribers will be more reliably notified when announcement are published that include at least one matching category or roadmap item.

Better control from the subscription management page
We're also bringing subscribed roadmap items to the subscription management page to give users a wholistic picture of their notification preferences in one central location. 
With this update users will now be able to easily unsubscribe to roadmap items that are no longer relevant, or quickly navigate to the roadmap and subscribe to additional items.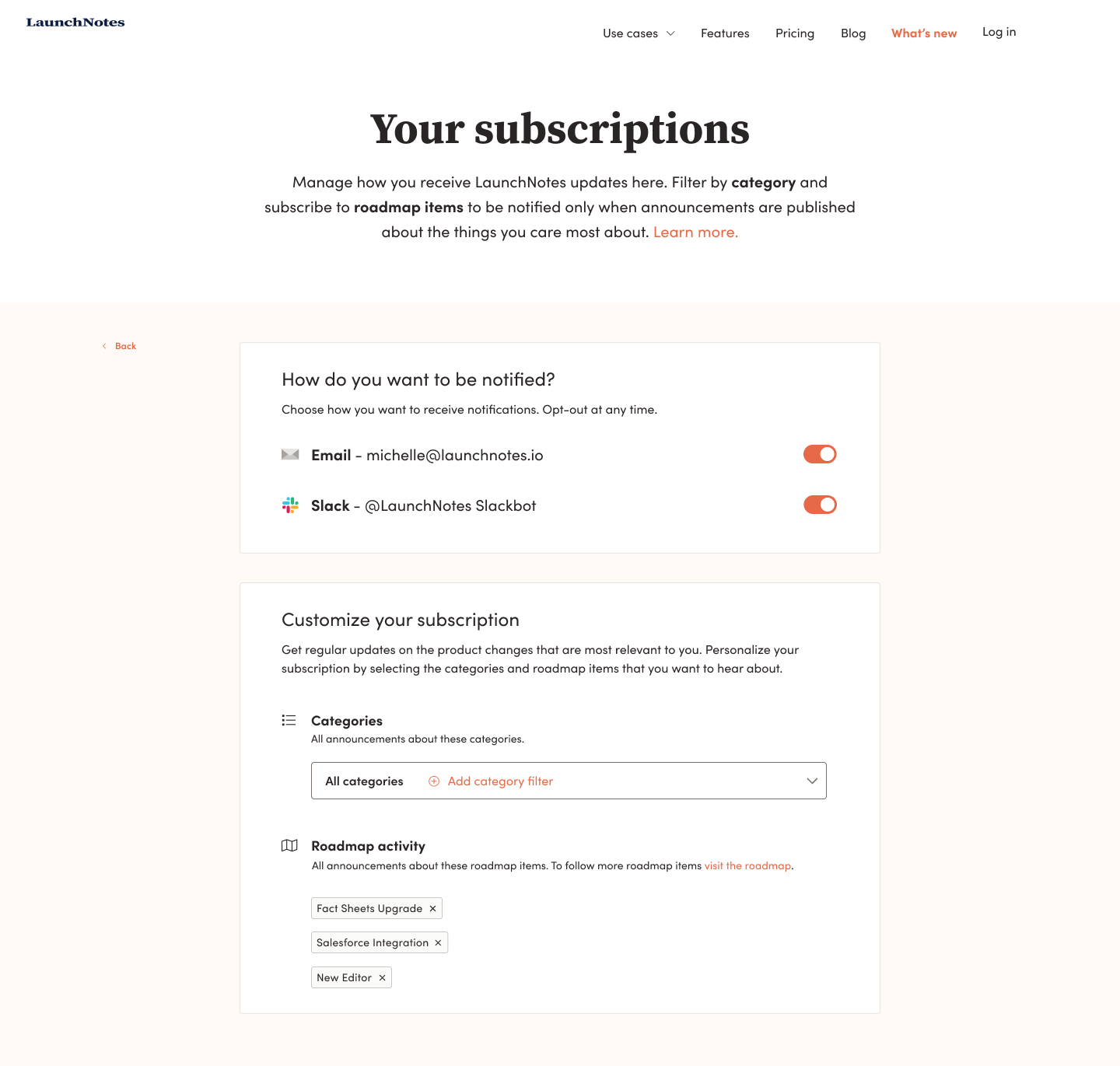 An Assortment of Other Updates
As always, our engineers have been diligently working to make your experience with LaunchNotes better. Here are a number of other updates that have shipped this week:
Consistently displaying dates in local time
We identified an inconsistency between dates displayed in the app and on the public page. All dates are now displayed in the local time of the viewer. 
Subscriber verification email
The verification email for subscribing to your page got a makeover! We've implemented several small style changes, which together give it a significantly improved look and feel.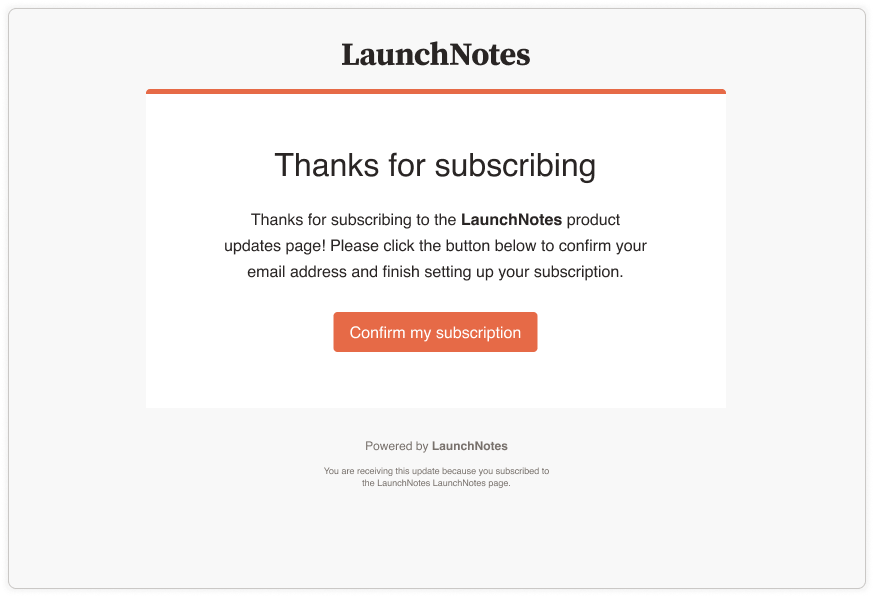 Displaying dates on roadmap items after the deadline
Previously, dates that were set to display, but were set for a date in the past, would be hidden on roadmap items. We've updated this so that if a date is set to display any level of fuzziness, other than "Do not display", it will display on the published page.
Have a great weekend
As always, we hope you have a restful, relaxing, and recharging weekend!