DATE:

AUTHOR:

Team LaunchNotes

RELATED ROADMAP ITEMS:
Announcements
Embedded widgets
Feature Friday - Sept 10 🚀
DATE:
AUTHOR: Team LaunchNotes
Happy Friday, all 👏
As we go into the weekend, we wanted to share what we've been working on and upcoming things we're excited about.
Don't forget you can leave feedback on our LaunchNotes page!
New 🚀
Jira automation runbooks
Our first iteration of Runbooks for Jira Automation is now live! You can now sync your work in Jira with your LaunchNotes Roadmap and announcements in realtime, all from within Jira. Automate the creation of your LaunchNotes Roadmap Items, move Roadmap stages, update content, create and publish Announcements, and associate categories to Roadmap Items and Announcements.
To check out what you can do and how to set this up, please visit our help center section on Jira Automation here.
Fixes 🔧
Analytics beta
In certain cases, the sent notifications number has been showing an incorrect value. We have resolved this issue and are now showing much more accurate data.
Futher bumping image size
We got feedback that images in emails were still a bit blurry on retina screens (even though we were serving them at 2x the size) - bumping that up a bit more seems to clear them up.
Coming soon ⏱
Onboarding checklist
We're working on a new onboarding checklist to help users orient and settle in when they create a new LaunchNotes account! After completing our onboarding wizard, new users will be taken to this screen with a list of key items to accomplish within the app to set them up for success and publish their first announcement. We also provide some key resources like best practice articles from our blog and a direct line to our support team.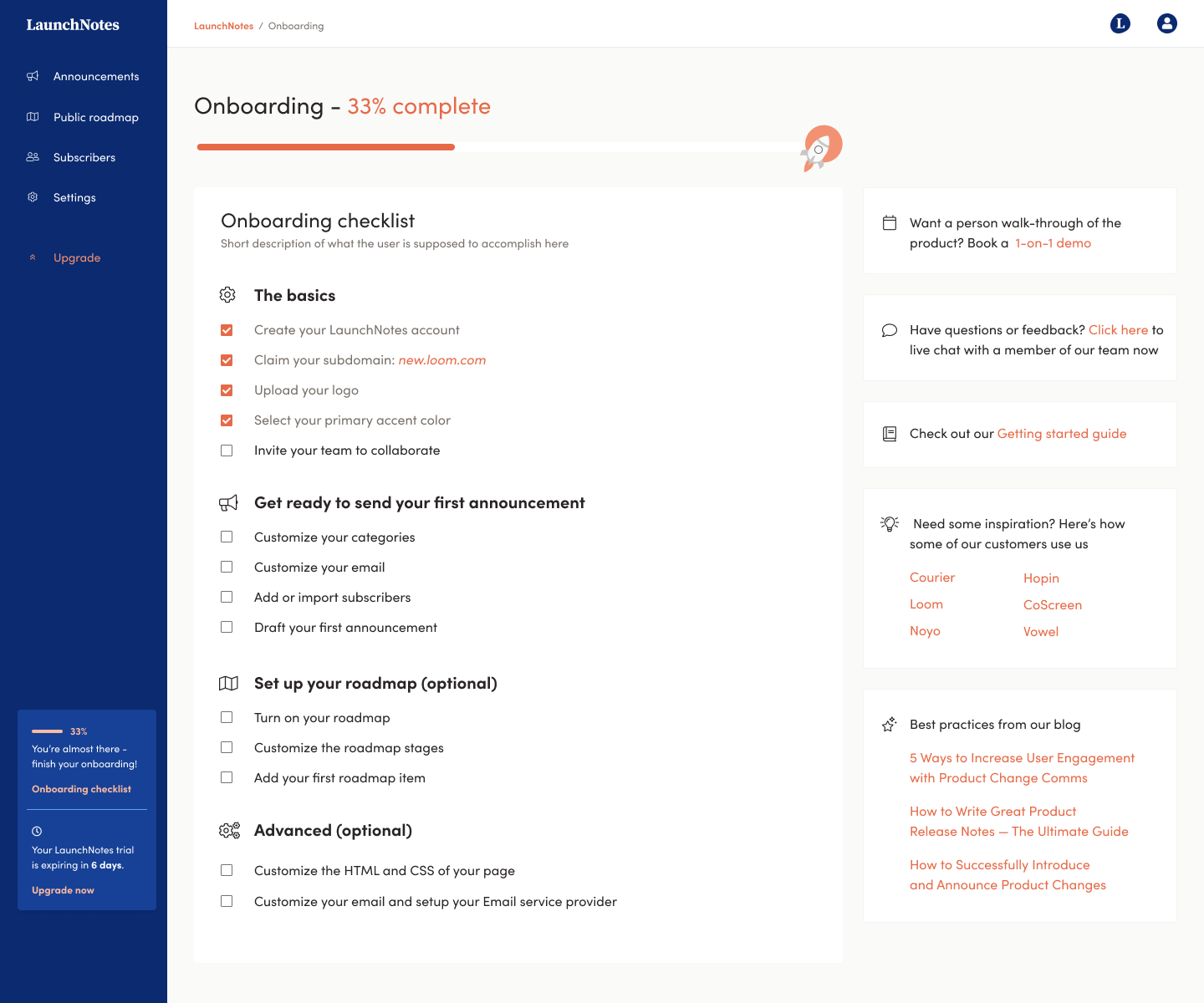 JWT Authentication
We are expanding our private page authentication and authorization options. With JWT, you will be able to create unique, short-lived tokens per customer, to grant custom access to your page.
Embedded widgets
We are making several improvements to our embed application.
Show your users an unread indicator

Client-side content caching to improve load times

Embed links into the header section of your pop-ups