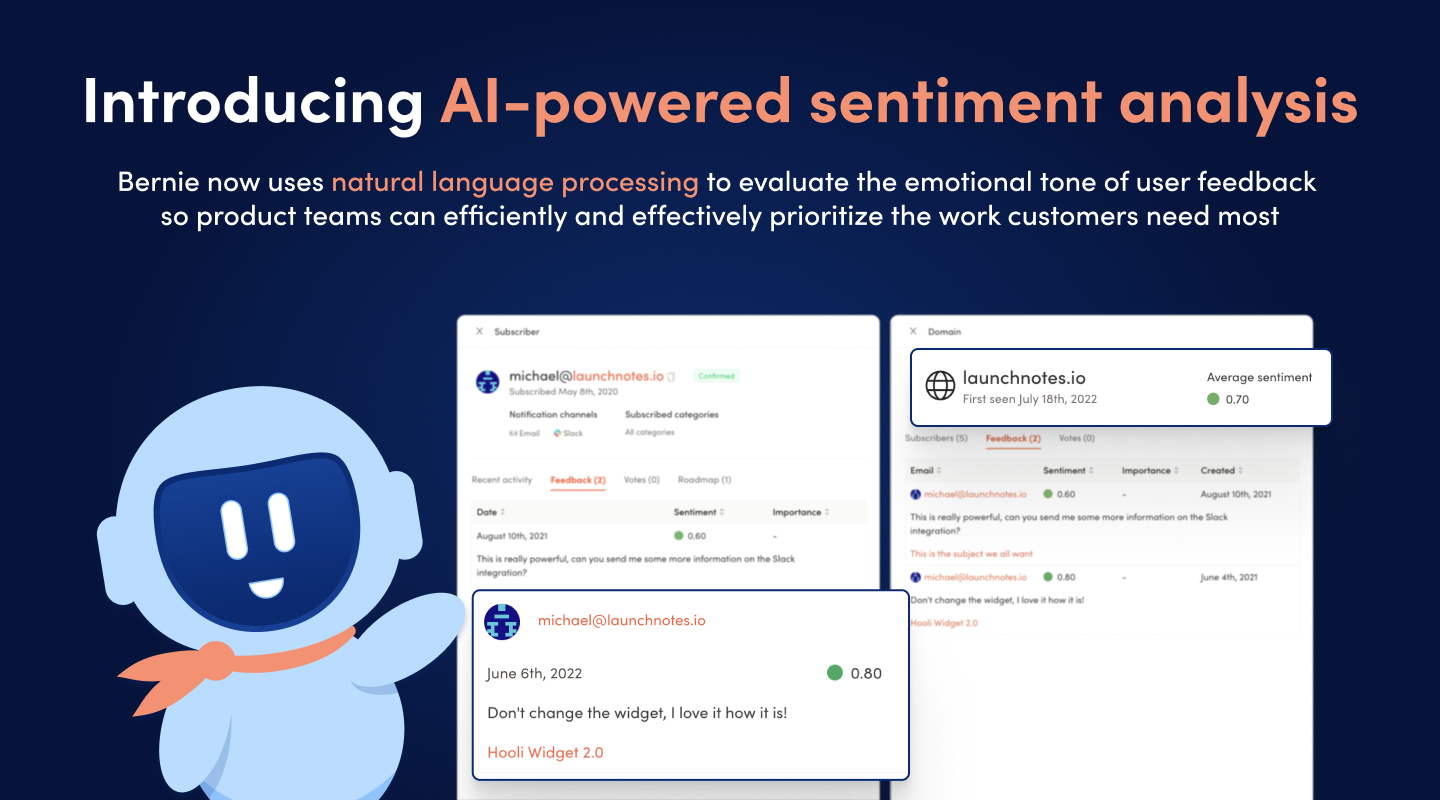 DATE:

AUTHOR:

Team LaunchNotes

RELATED ROADMAP ITEMS:
Customer insights
Notifications
Private pages
Public pages
Roadmap
Administration
Introducing AI-powered sentiment analysis, domain and subscriber info panels, and more!
DATE:
AUTHOR: Team LaunchNotes
Today we're excited to announce a slew of new features that will drive substantial improvements in your ability to: 
Access and surface valuable customer data across individual users and organizations

Glean quality insights from subscriber activity, engagement, and feedback

Ensure you're always prioritizing the most important work based on customer needs and sentiment, even at scale
First up, our new AI assistant, Bernie, has trained herself on a new skill: automated sentiment analysis! 
Automatically surface insights that drive better prioritization with AI-powered sentiment analysis
Leading product teams everywhere use LaunchNotes to collect feedback from their customers, and many of these teams are collecting hundreds of feedback items per week. Sorting through this feedback manually is wildly time-consuming–a time commitment that only further explodes for businesses that have multiple products or product lines. 
So, in an effort to save PMs hours every week, we did the only logical thing: task Bernie with analyzing feedback items on your behalf: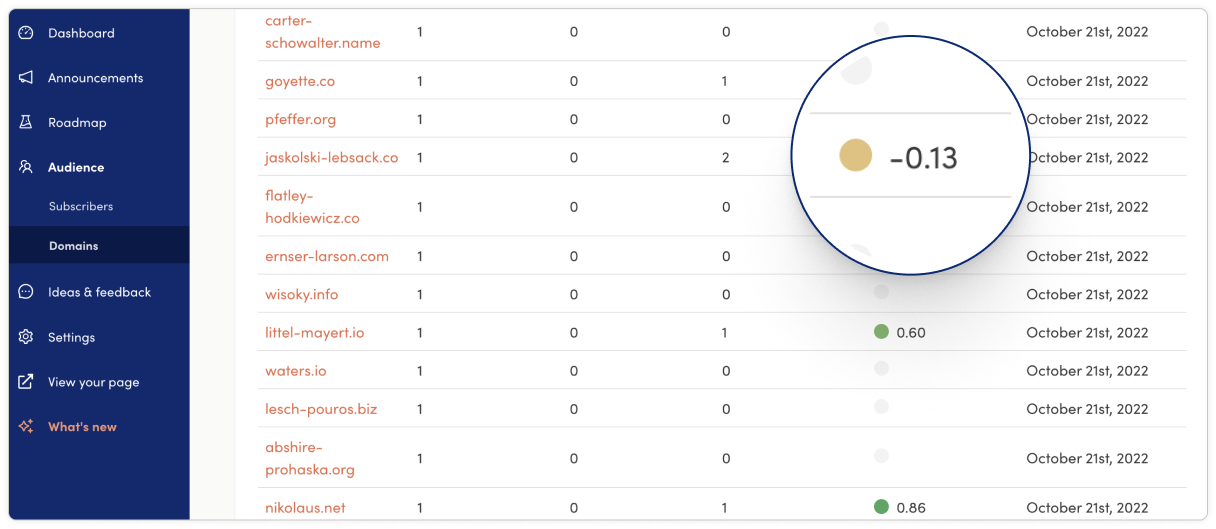 Beginning today, Bernie now analyzes all feedback left through LaunchNotes and automatically appends a sentiment score to each piece of feedback. Using natural language processing, Bernie evaluates the emotional tone of each feedback item so product managers can see, at a glance, how positive or negative the feedback really is.
While automated sentiment analysis of individual feedback items is valuable, the true value of Bernie's newest undertaking begins to reveal itself in the multitude of ways these new sentiment scores are surfaced and utilized throughout the product. Especially for teams collecting and analyzing feedback at scale, this new functionality is going to be a game-changer!
Sentiment analysis by subscriber
First, there's the sentiment score applied to each individual feedback submission. This can be found in the feedback tab of the new subscriber info panel. The subscriber info panel view is available on all LaunchNotes plans.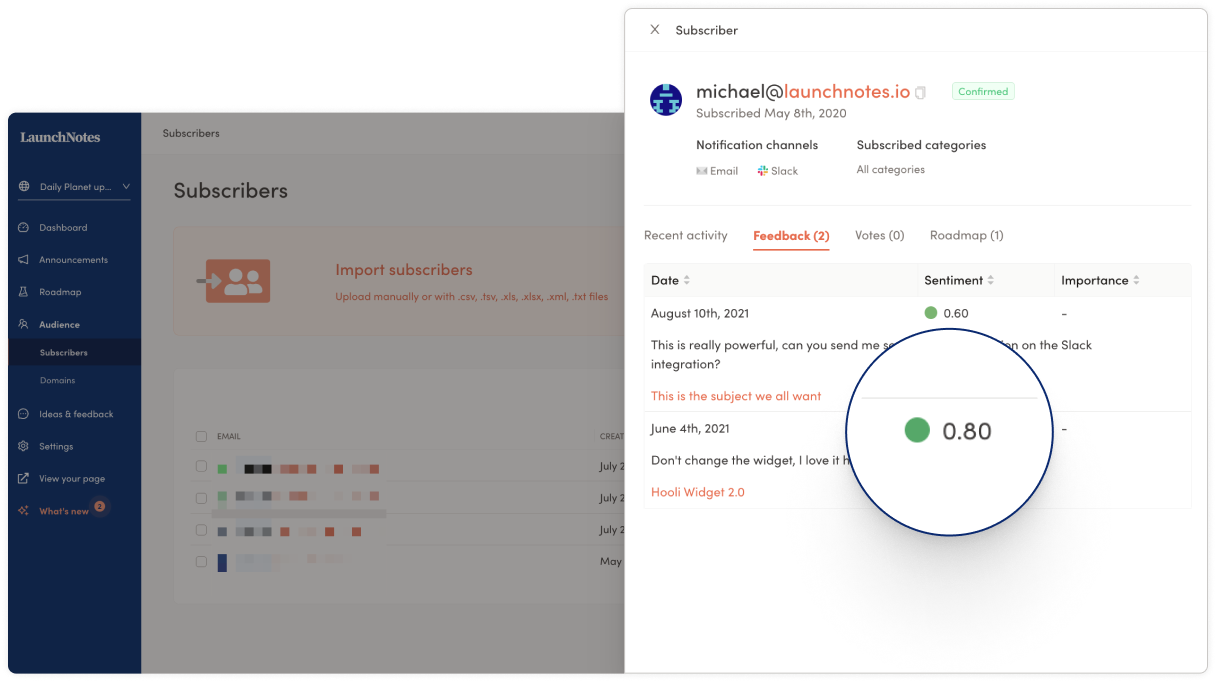 Sentiment analysis within the subscriber info panel provides an immediate, high-level snapshot of a subscriber's feedback history within a timeline view, as well as the associated sentiment of each piece of feedback. This view gives product teams a deeper understanding of their customers, what they care about, and how happy or dissatisfied they are.
Sentiment analysis by domain
Next, when you click on a domain in the management portal, you'll be presented with a domain info panel with an average sentiment score at the top of the panel. This is the aggregate sentiment of all feedback submitted by the subscribers of a particular domain. A subscriber's domain is automatically determined by the email domain in their email address (eg, the domain for support@launchnotes.com is launchnotes.com). A domain typically represents the company a subscriber is from, however, some organizations have multiple domains within their company.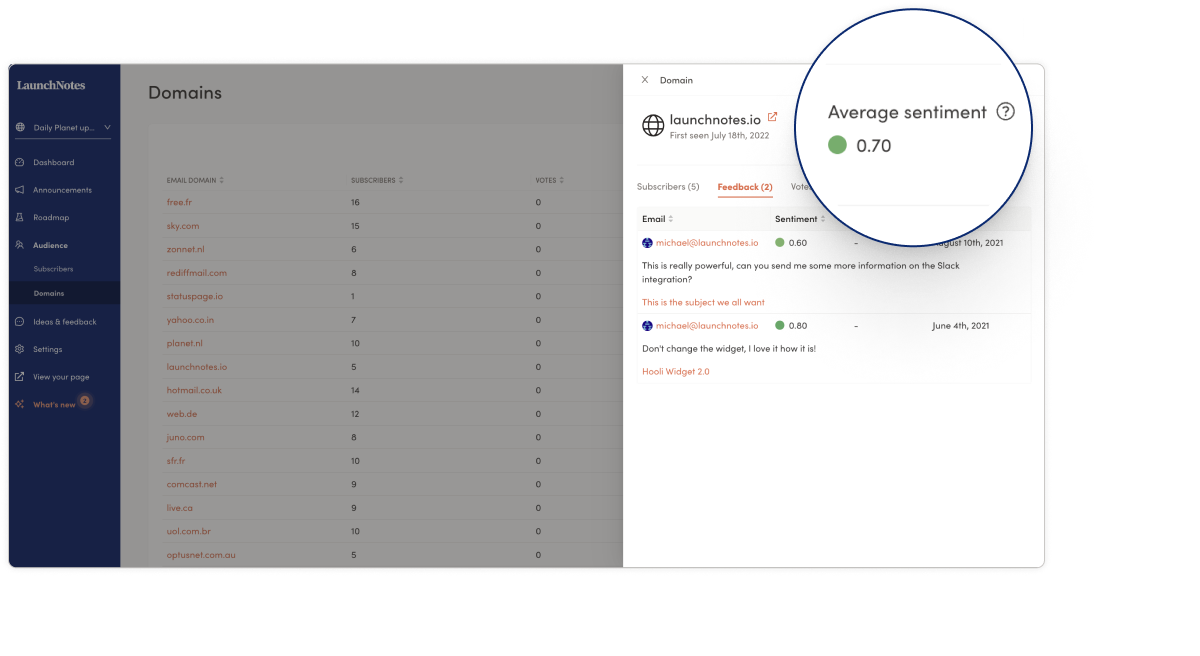 Think of this domain-level sentiment score as a quick snapshot into the emotional energy of all the feedback given from that domain. This view gives product teams a powerful new way to gain insight into how customers are feeling after taking into account all the feedback anyone from that domain has left. Notably, this includes feedback across product ideas, roadmap items, and announcements. The domain sentiment analysis is available on Business and Enterprise plans.
Sentiment analysis across your user base
Last, but certainly not least, we've added an average sentiment score to the domains table, allowing you to see sentiment across your entire customer base. Sentiment values range between -1 and 1, corresponding with how negative or positive the average tone of their feedback is.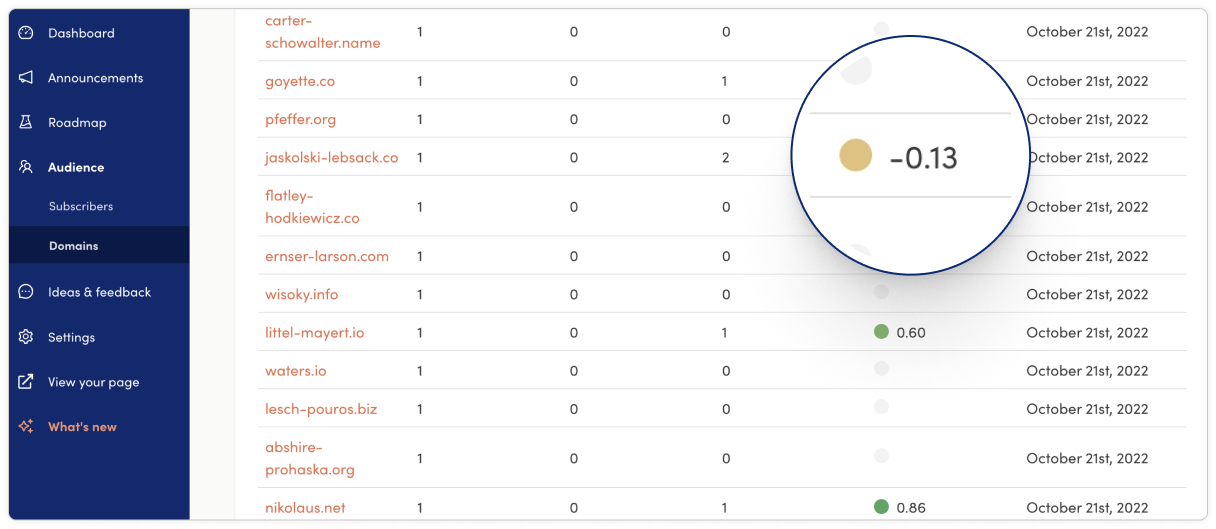 For positive values, a plus symbol is not used, but the sentiment dots are color-coded from green (positive) to yellow (neutral) to red (negative). The domains table view is available on Business and Enterprise plans.
Layering an AI assistant over your feedback collection begins to deliver on the promise of managing feedback at scale, not only transforming feedback into insights but accelerating the process of prioritizing what your customers are asking for.
While automated sentiment analysis is a powerful new tool for your product development, but that's only one of the features we're shipping today.
Transform customer insights into action with subscriber and domain info panels
Also shipping today is subscriber info panels for all LaunchNotes customers and domain info panels for our Business and Enterprise customers. 
These new features centralize subscriber and domain information in one panel, providing a holistic view of key dates, activity, sentiment, and the overall health of the product development dialogue you're having with your customers through LaunchNotes.
Subscriber info panels
In the subscriber table, and anywhere you find a subscriber email address, you can now select that email to open the subscriber info panel. This info panel provides you with all the subscriber information in one place: email, domain, and subscription status across notification channels and categories.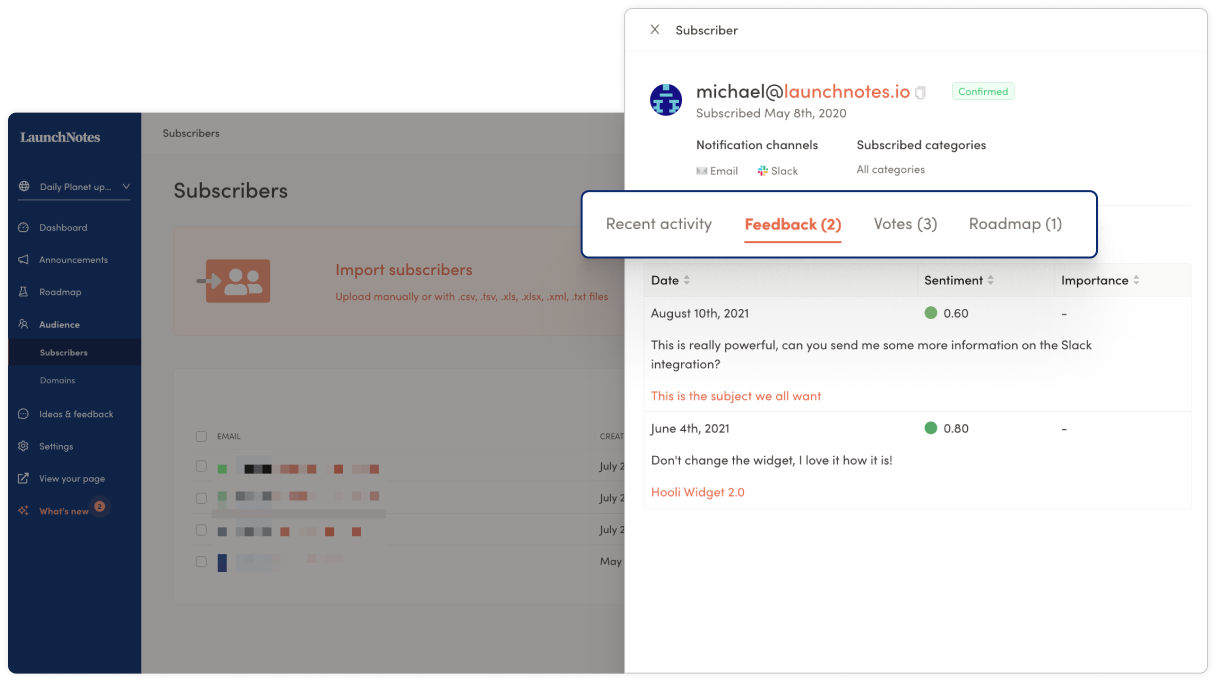 Let's dig into the specific information detailed across four tabs in the info panel for a complete, holistic view of a subscriber's engagement across your product development cycle:
Recent activity unfurls notification timing and activity. Email and Slack notifications are grouped here, giving you the status of notifications received at a glance, and feedback related to a specific notification. You can also open a specific notification in a new tab in your browser for immediate reference and review. 
Feedback includes the subscriber's feedback in three sortable columns:
The date the feedback item was provided

The sentiment score for the feedback

And the stated importance of the feedback item to inform resource prioritization
Links in the panel will open up the announcement, idea, or roadmap item the feedback is organized to in a new tab of your browser.
The votes tab is the third in the info panel, providing a view of all the ideas that the subscriber has cast votes on. And the roadmap tab contains all of the roadmap items a subscriber is following and a link to that item on your roadmap.
Domain info panels 
Our own customer feedback as well as 1st party research provided us with the insight that product and customer-facing teams need information grouped by the companies they serve, not just the individuals at those companies. To that end, we've grouped page subscribers under their email domains, providing domain info panels in the management portal.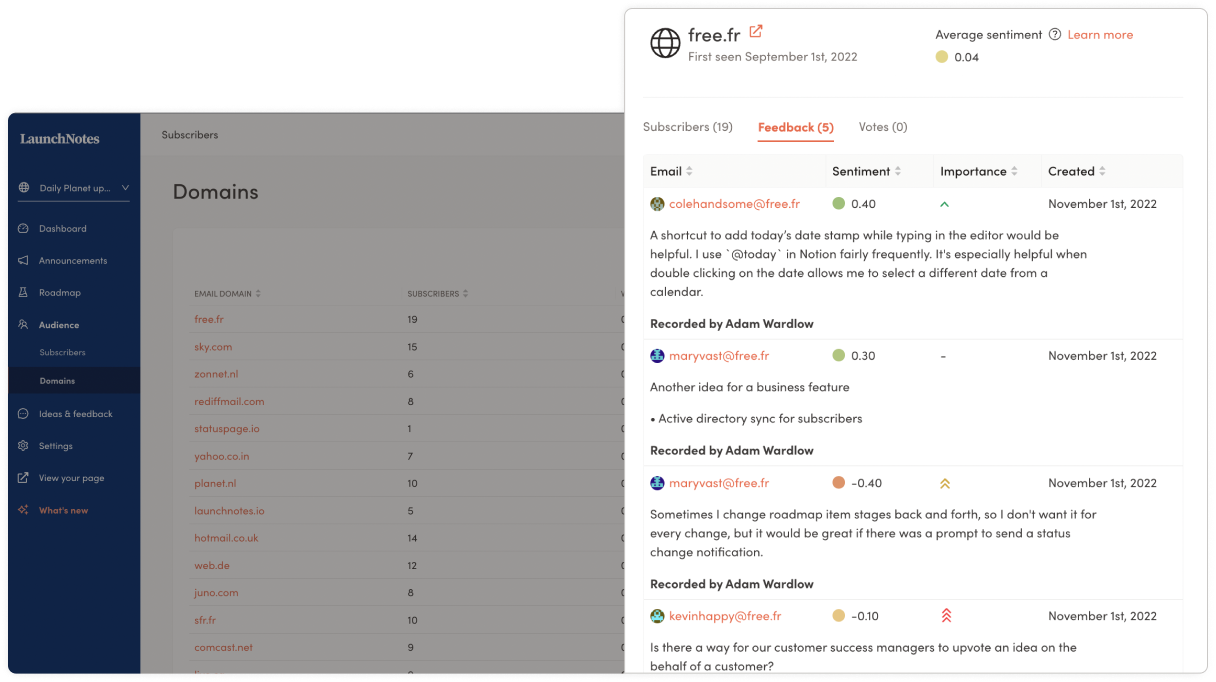 In the domain info panel view, you'll be able to see which domain a subscriber is coming from. This is our first step into segmenting your audience by subscribers. For example, if you have a subscriber with the email address "jdoe@example.com," LaunchNotes will look at the domain "example.com" to segment that subscriber. In just a few clicks, you get an overview of how an organization is engaging with your product and your team, and to see how they're communicating their feedback.
With domain info panels, you can sort by different criteria: email domain, subscribers with email addresses, and the feedback and voting activity at the domain level down to the individual subscriber. 
These changes will make finding information in LaunchNotes much easier, and accelerate how product teams use that information to drive insights that lead to action. 
Value for every team across your organization
These features not only benefit product teams but deliver value across the organization:
For product teams: centralize all your customer activity, feedback, and sentiment to inform your product development resources and pipeline 

For customer success teams: get a single-pane view to quickly diagnose the health of subscriber engagement with your product and your product communications 

For marketing teams: develop insights into where you might focus marketing resources to drive increased product adoption

For revenue teams: get a snapshot of how prospects are engaging with your service 
The subscriber info panel with automated sentiment analysis is available across our subscription plans. The domain profile with sentiment analysis is only available on Business and Enterprise plans. LaunchNotes Essentials users will be able to navigate to the domain table beneath the Audience tab in the management portal, but the table will have an overlay providing Essentials customers a path to upgrade to the Business tier to unlock access to the domain info panel and other Business tier features such as the AI writing assistant for announcements and roadmap items.
For additional detail on these features, check out our KB articles on sentiment analysis and the info panels.
We love your feedback
As always, we are eager to hear how you feel about these new features!
Thoughts? Questions? Concerns? Complaints? Ideas for improvement? We love 'em all.