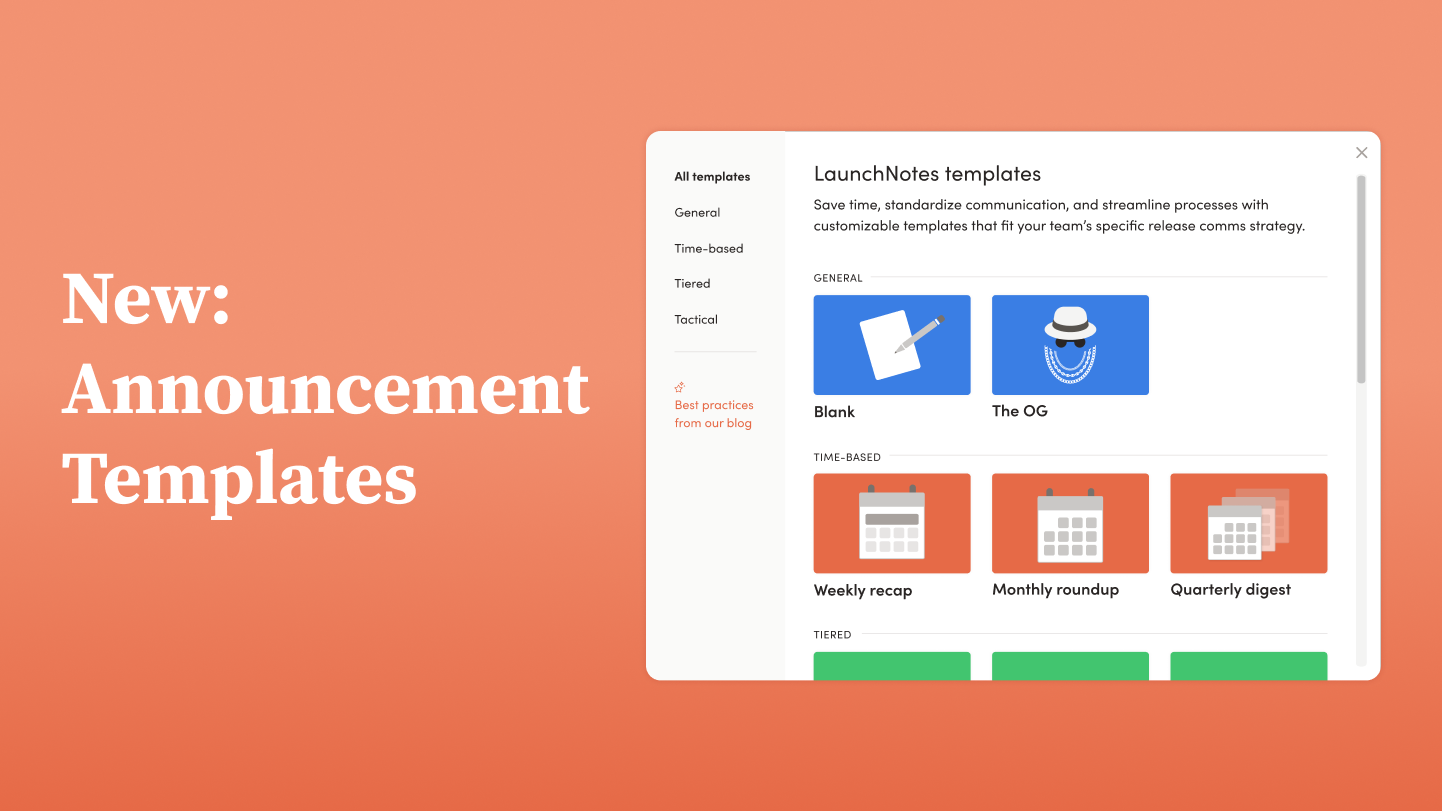 DATE:

AUTHOR:

Team LaunchNotes

RELATED ROADMAP ITEMS:
New: Announcement Templates
DATE:
AUTHOR: Team LaunchNotes
Announcement Templates have landed!
We're excited to share that Announcement Templates—one of our most requested features—are now live.
Whether you're looking to streamline your announcement workflow, standardize your customer comms, or ensure nothing ever slips through the cracks before a big release, you can do all of that (and then some) with templates.
Available now
Templates are available... 🥁 ... today!
Begin using this new functionality immediately by adding a template to your LaunchNotes project and then drafting a new announcement with whichever template you added. More on how to do this below.
Leverage our best practices, or create your own
But today we aren't just releasing customizable Announcement Templates. We decided to go one step further to make your life even easier by shipping an entire library of ready-to-use templates. So if you don't feel like creating your own, LaunchNotes users can now leverage any one of 11, pre-loaded templates that our team has created for you. So whether you're releasing something particularly tactical, your release cadence is time-based, or you like to announce things on a standard tiering model, we've got you covered.
If you do choose to leverage one of LaunchNotes' built-in templates, you can rest easy knowing they're filled with best practices from over a decade of firsthand experience working with hundreds of customers on their own respective release comms strategies. Learn more about each template and how to use them in our blog on release note templates.
Available on all projects and plans
Templates are available for public and private pages on all plans, including free trials.
How to use Templates
Under Announcements → Templates select "+ New template". Pick a template from our library to add to your project. Once added, customize the name, description, and content of the template. This is your team's blueprint for future announcements.
Templates are saved for everyone on your team. All project contributors can create Announcements from templates added to the project.
Pro-tip: try creating templates for your regular round-up or bug fix announcements!
Once you've created your first template, navigate to Announcements → All and select the template name from the dropdown on the "+ New Draft" button.
A new draft Announcement will be populated with the content from the template. Now update the content, and publish your announcement!
Visit the Help Center, get in touch, or give feedback
Check the Announcement templates knowledge base article and get in touch with our team with any questions, or click to leave feedback to the left and let us know how template-y you plan to get!