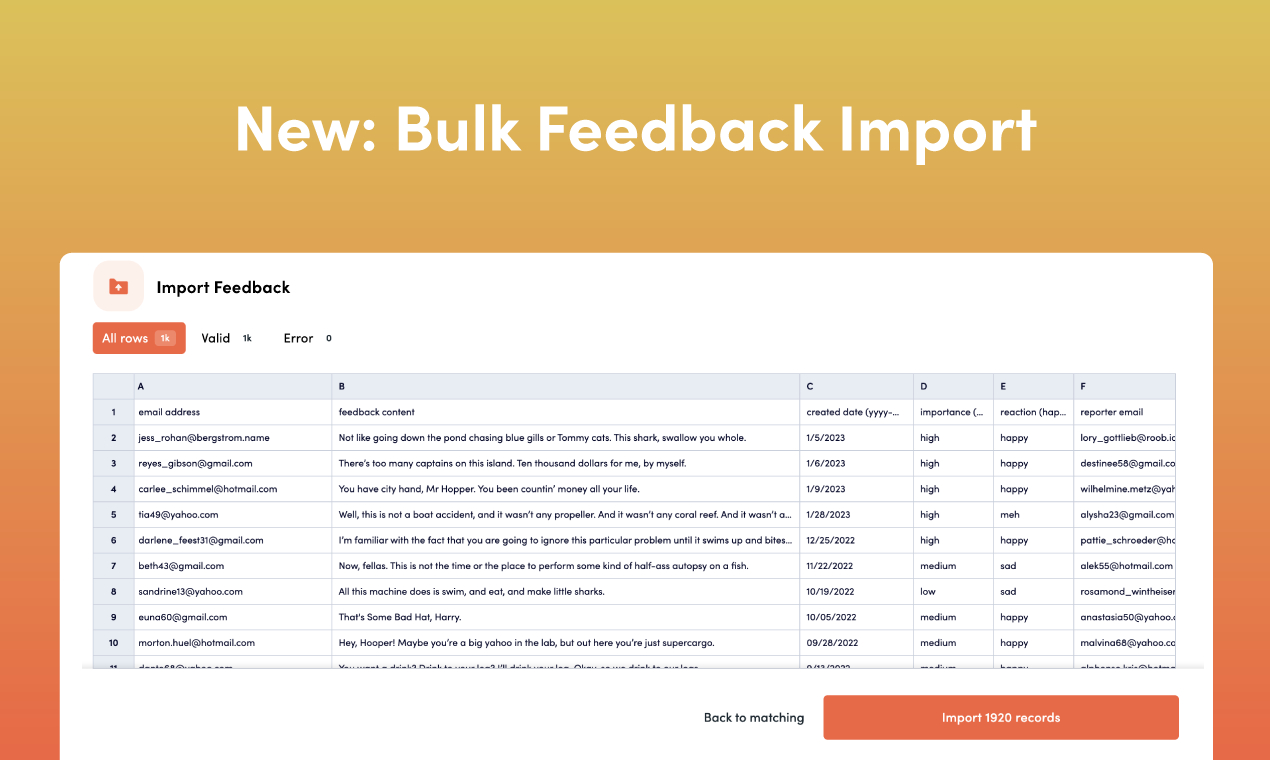 DATE:

AUTHOR:

Team LaunchNotes

RELATED ROADMAP ITEMS:
Customer insights
Administration
New: bulk import feedback and ideas into LaunchNotes 
DATE:
AUTHOR: Team LaunchNotes
LaunchNotes customers have a new, no-code way to import feedback into LaunchNotes with the bulk feedback import capability available today.
It's one of the most vexing problems a product team is faced with, and it's one of the most critical to solve – moving feedback, siloed in different systems, with different teams into one central repository where it can be categorized, prioritized, and put into action. 
We're incredibly excited to get this powerful capability into the hands of our customers to help put this challenge in the rear-view mirror, and so they can start harnessing the power of customer and internal stakeholder feedback wherever it resides.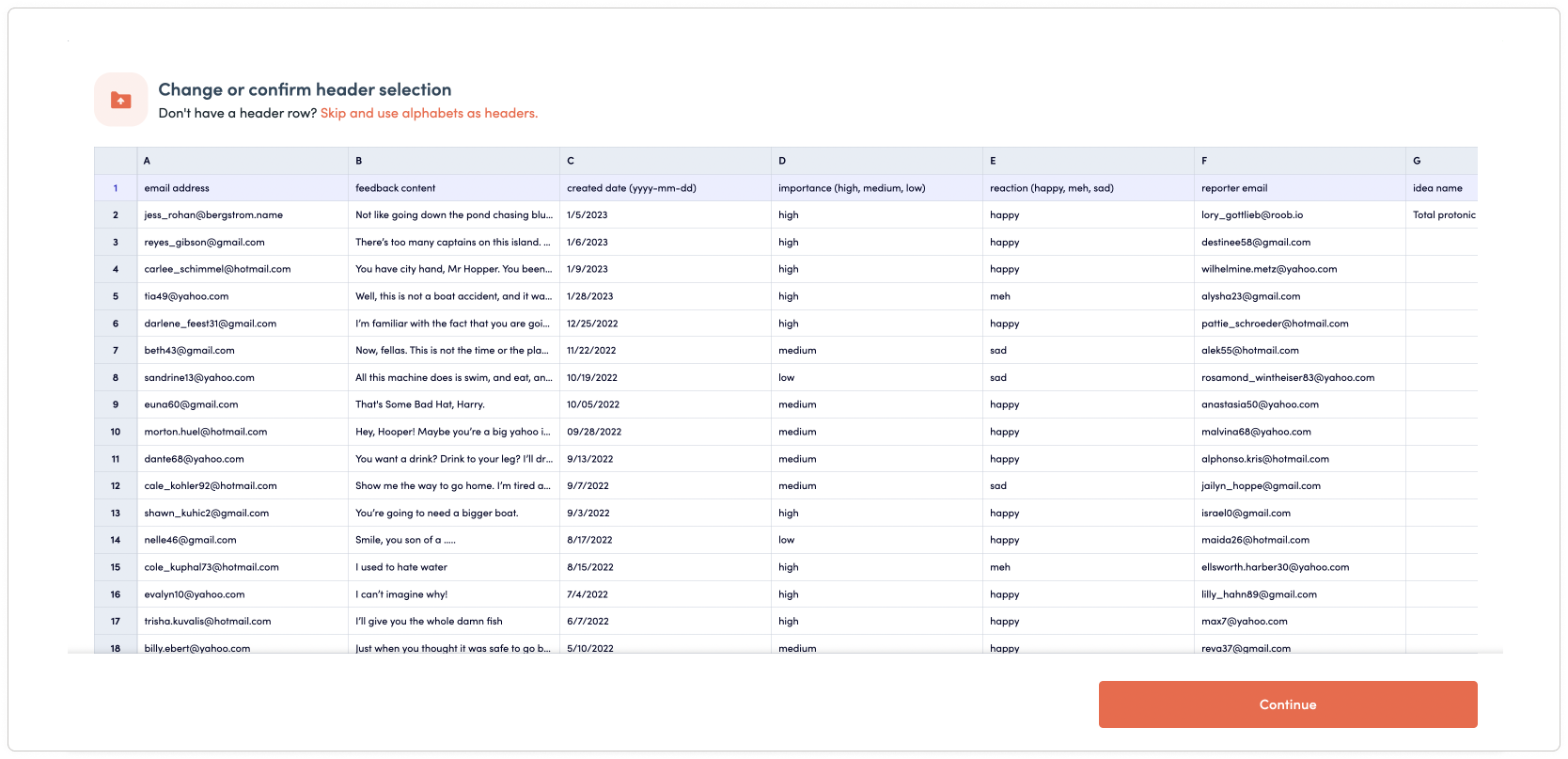 With our feedback import, you can import thousands of feedback records into LaunchNotes to be efficiently categorized across multiple fields, including ideas, to ensure none of your feedback is lost or forgotten, and the most impactful feedback and ideas are being shaped and actioned for building. For ultimate convenience, our new importer supports multiple file types: CSV, TSV, XLS, XLSX, XML, and TXT.
With feedback import, and getting all your feedback into LaunchNotes, you can: 
Import customer feedback from multiple sources

Categorize and filter feedback by product line and client account

Analyze customer feedback to identify trends with AI-powered sentiment analysis and topic modeling

Prioritize customer feedback quickly into ideas you're considering

Commit to the most impactful work confidently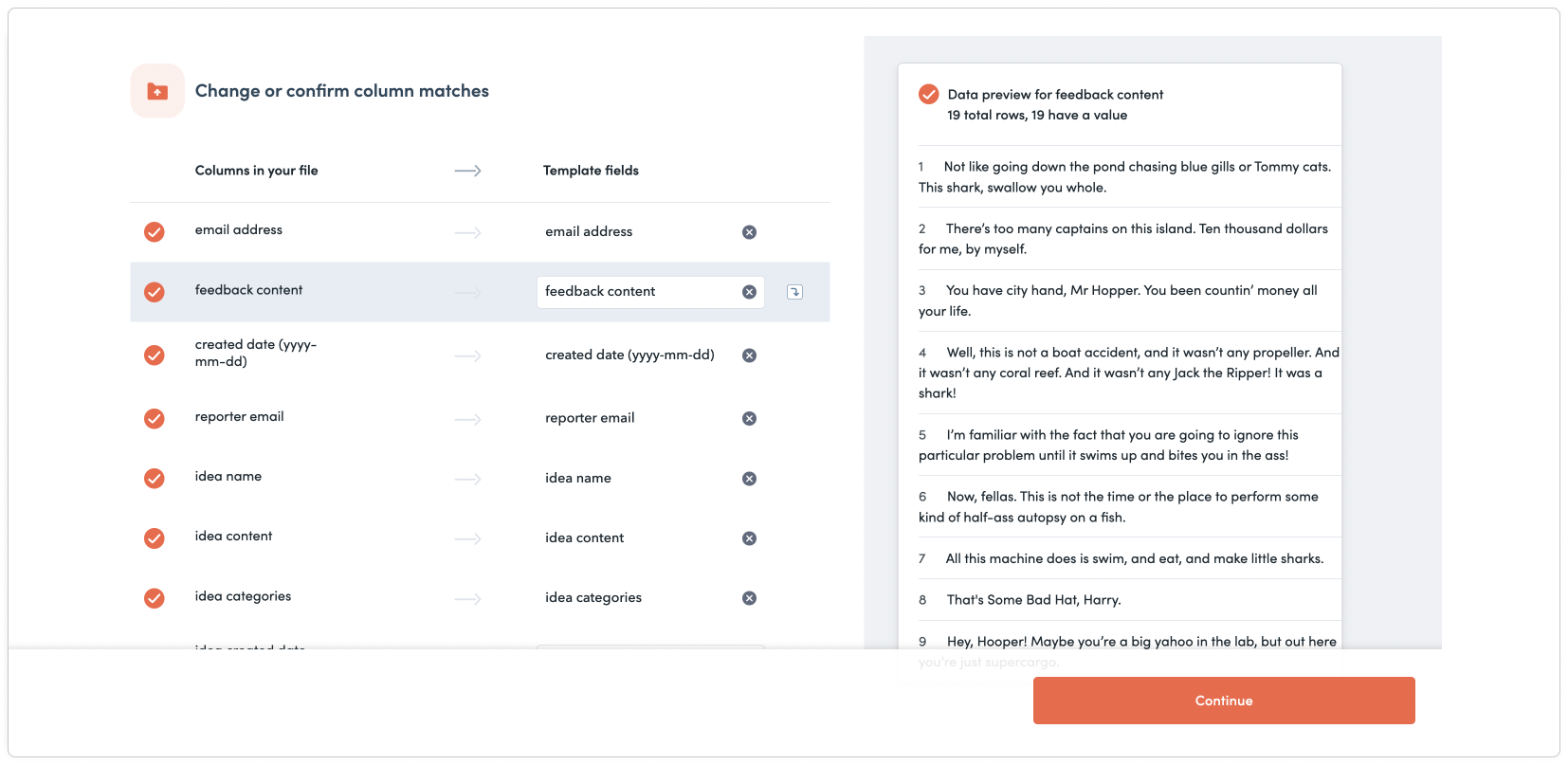 Don't just import feedback, import your ideas!
But we didn't stop there!
Not only can you bring in all your feedback but you can bring in all of the ideas your team has already organized. When importing, if the feedback includes an idea name, it will be organized to that idea automatically. If the idea doesn't already exist, it will be created. You can even set the idea content, categories, and published state during the import to get everything done at once. 

Feedback import to centralize new and historical feedback
The feedback import capability helps product teams eliminate the overwhelming state that can happen with volumes of feedback and help them succeed in putting feedback to work for them:
Moving from an existing platform to LaunchNotes but don't have an easy way to bring their backlog with them. We've got you covered.

Teams evaluating LaunchNotes for feedback, but don't have the data to test against to get started. We'll get you up and running, fast.

Feedback dispersed throughout your organization, across teams, and fragmented in silos. We'll help you get it all in one place.
Start today! Take control of your customer feedback and move your feedback and ideas from the siloed systems of the different teams in your organization to one centralized repository in the feedback inbox manager. Organize and prioritize your customer feedback so you can build the next great feature and capability your customers will love.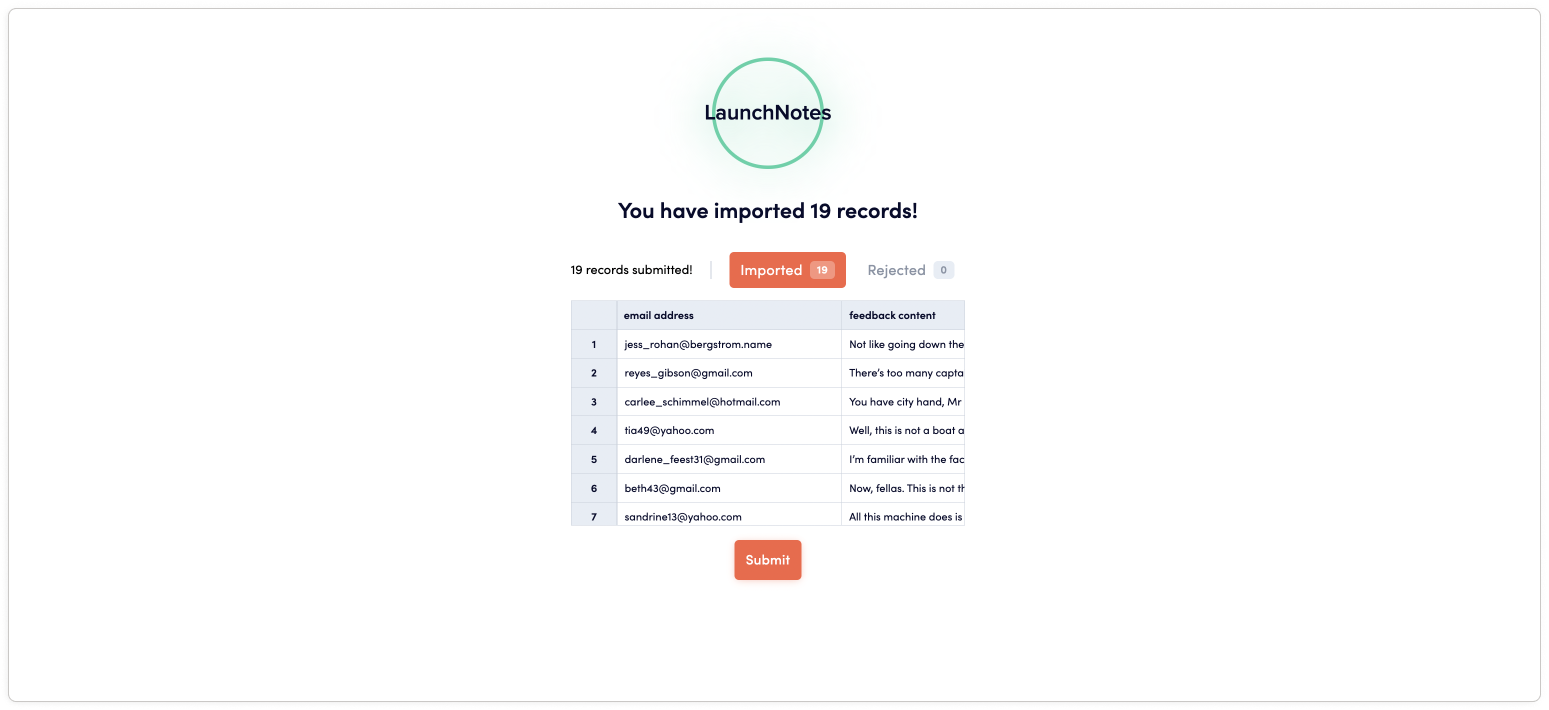 Begin importing today
To import your first batch of feedback, admins can navigate to the Ideas & feedback section in the LaunchNotes management portal, click on Feedback inbox, and then click on Import in the top right-hand corner.
For additional information on how our feedback import works, check out our subscriber how-to: Importing Customer Feedback into LaunchNotes
We'd love to hear your feedback!
What do you think of this new feedback import capability? Looking for additional functionality for feedback import, let us know what you'd like to see by leaving feedback with this announcement.
Thank you and have a wonderful day! Happy importing!