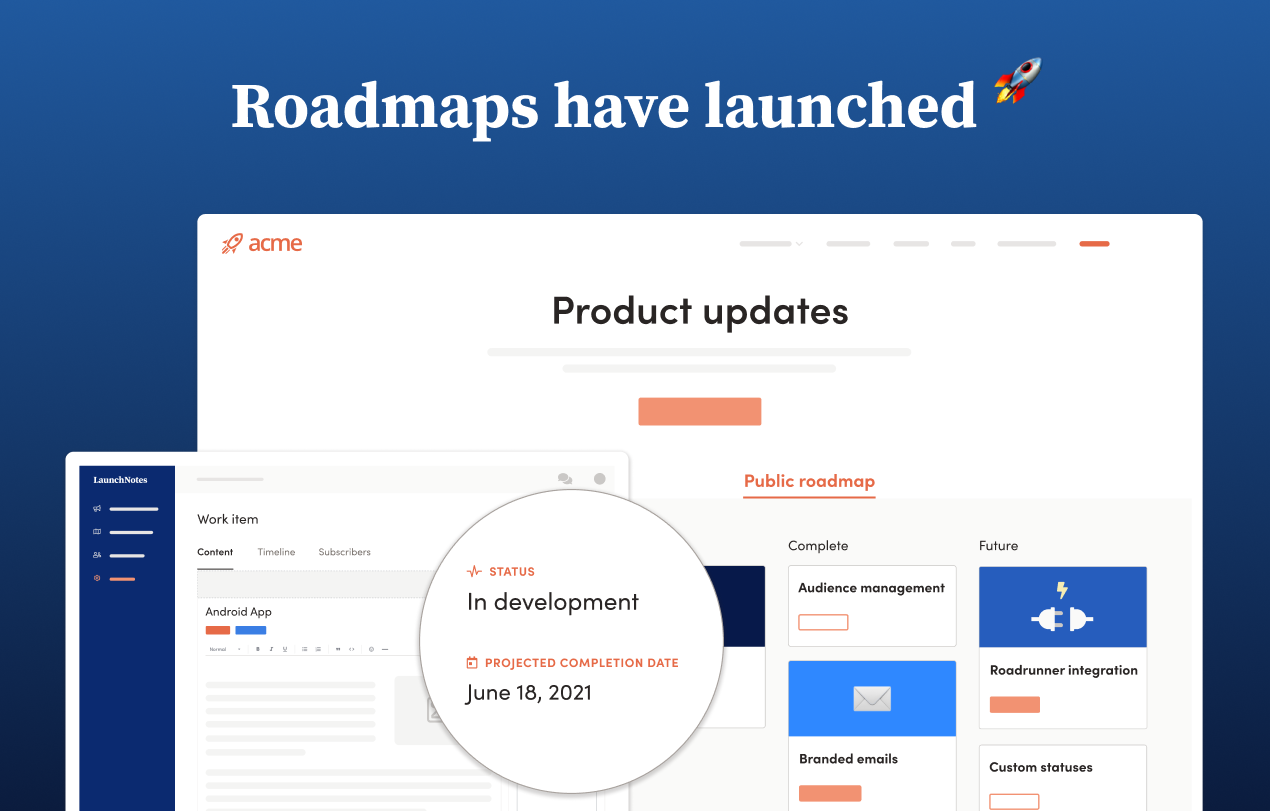 DATE:

AUTHOR:

Team LaunchNotes

RELATED ROADMAP ITEMS:
Notifications
Public pages
Roadmap
DATE:
AUTHOR: Team LaunchNotes
We've spent the last 2 weeks incorporating feedback from our beta group and putting on the finishing touches. Check out the video walkthrough or read the details below on everything you can do with our new Roadmaps feature.
Custom stages
Create custom statuses/stages that map directly to how you communicate changes in your product development process.
Fuzzy completion date
Communicate an exact or "fuzzy" date for when items on your Roadmap are shipping.
Subscriptions
Allow people to subscribe to one off Roadmap items. You can also add them directly from the admin interface.
Attach Roadmap items to Announcements
When you attach Announcements to Roadmap items you'll notify everyone that has subscribed to that Roadmap item.
Collect feedback and ideas
Open up a feedback channel for your customers and give them a new voice as part of your product development process.
Call out big features
Give certain Roadmap items more visual attention by adding a hero image.
With Roadmaps you now have a dedicated place to talk about the future of your product. Keeping people in the loop about where you're headed helps retain current customers, attract new ones, and increase feature adoption.
Check out some of our favorite tools and their Roadmaps powered by LaunchNotes.
Courier
updates.courier.com/board - The fastest way to build notifications for your app.
Reclaim.ai
updates.reclaim.ai/board - A smart friend for your calendar.
ArborXR
updates.arborxr.com/board- Enterprise-grade XR device management, content management, and content distribution solution for companies and XR solutions providers looking to scale.
That's a wrap! Head over to your app.launchnotes.com account to enable your Roadmap and show off the future 🚀