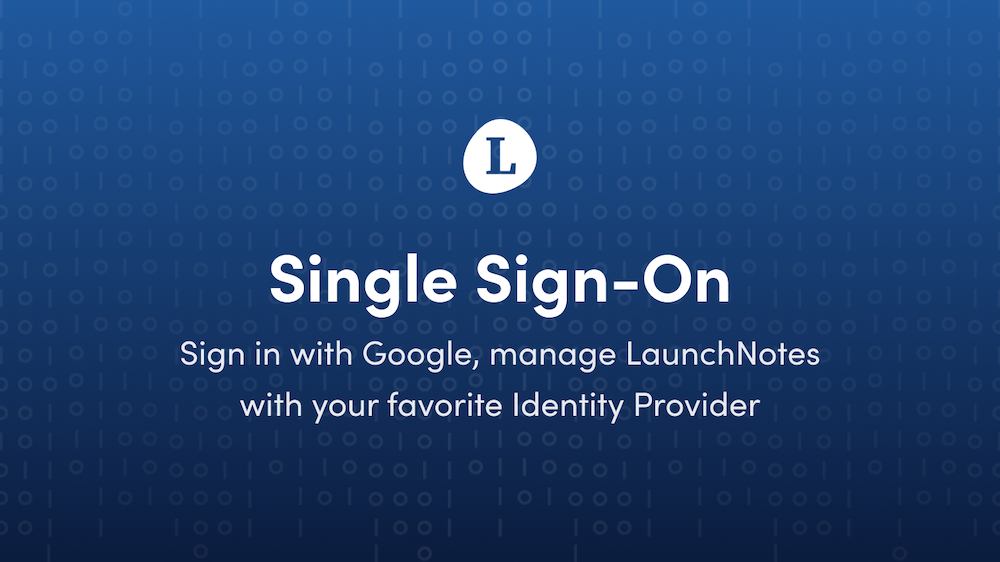 DATE:

AUTHOR:

Team LaunchNotes
DATE:
AUTHOR: Team LaunchNotes
SSO for managing your LaunchNotes account. Supports all major Identity Providers.
What's New?
SSO has come to LaunchNotes! You can now sign in and up with LaunchNotes using Single Sign On. With this change you'll also be able use Google, Okta, OneLogin and any other Identity Provider you want with LaunchNotes.
When is it officially rolling out?
We'll be turning it on Saturday, September 19th and monitoring throughout the weekend. Subscribe to the scheduled maintenance on our status page if interested in following along with up to the minute details http://status.launchnotes.io/incidents/7n4p9dybbgs0....
What to expect
Current users
Next week you'll notice the new log in and sign up form. You don't need to change anything about how you sign in to LaunchNotes if you don't want. But, if you want to start signing in with Google and your company uses Gsuite, you can.
Future users and trial alumni
Looking to try LaunchNotes but worried about a large rollout? Try it in the past but was hoping for an integration with Okta, PingID, or OneLogin? If you're on the Enterprise tier, you can now integrate any Identity Provider to roll out LaunchNotes to your organization. Contact us to set this up sales@launchnotes.io
How does it work?
The beauty is, nothing will be different for current users.
We're using a service called Auth0 to offer these new connections. Auth0 is an industry leading Identity platform. They allow us to support any Open ID or SAML compliant provider and help ensure secure access to your LaunchNotes account.
Your LaunchNotes data is some of your company's most critical data. Auth0 is an important step in managing secure access to your LaunchNotes account.
FAQ
What services do you support?
Currently, we support Google accounts out of the box. We integrate with all Identity Providers including Okta, PingID, Microsoft ADFS and OneLogin.
Is Two-Factor Authentication supported?
Yes! You will be able to set up two-factor authentication for your LaunchNotes account.
Which plans include SSO?
Social logins like Google are available for all tiers. However, if you wish to manage user access to LaunchNotes through your own IDP, you'll need a dedicated Enterprise connection. Enterprise connections to your Identity Provider require a LaunchNotes Enterprise plan.
Do I need to do anything differently?
No action is needed for any current LaunchNotes users. The only difference you'll see is our new sign in form the next time you log in to your account.
Do you support SSO for GitHub? Linkedin? Microsoft?
Not right now, but Auth0 makes it easy for us to offer this in the future. 🙃 Please let us know if/what other social logins you want to see supported.
Loading…
Wrap up
That's all for now. Don't hesitate to reach out to hey@launchnotes.io with any questions.
Have a great weekend!