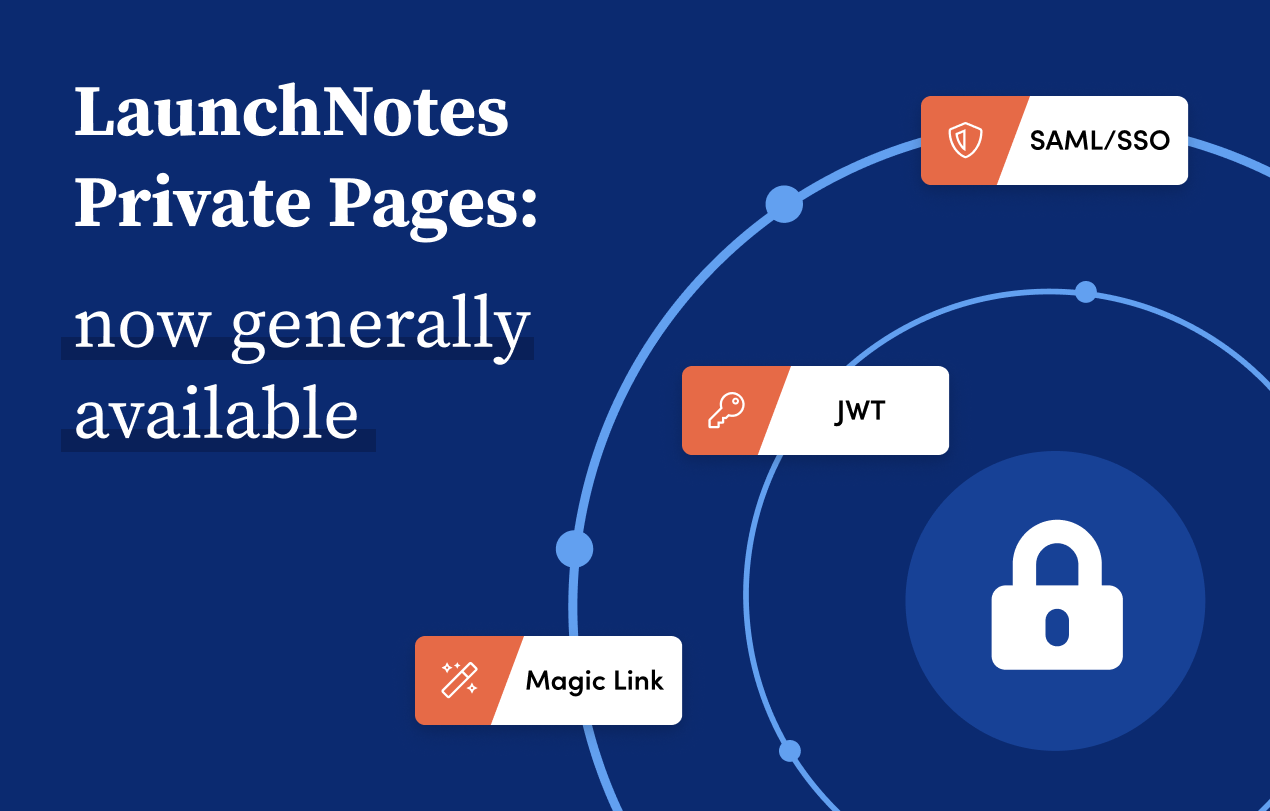 DATE:

AUTHOR:

Team LaunchNotes

RELATED ROADMAP ITEMS:
Announcements
Notifications
Private pages
Roadmap
The Next Piece of the Puzzle: LaunchNotes Private Pages are Here
DATE:
AUTHOR: Team LaunchNotes
Since the earliest days of LaunchNotes, our mission has always been to keep individuals aligned with the product development lifecycle of the applications they use and love. As the rate of change across the software development industry continues to steadily increase, staying on top of what's being released to whom and when has gone from being a dull headache to a full-blown migraine. LaunchNotes solves this pain.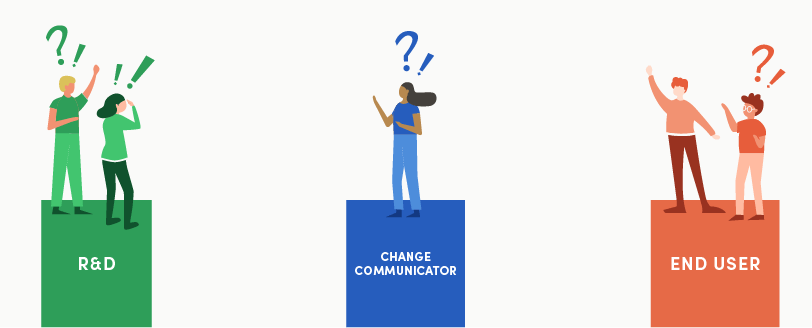 But solving a problem this big and complex can't be done all at once. As the saying goes, the only way to eat an elephant is one piece at a time. And so our team decided to divide the problem into different audiences, and then solve for the needs of each audience in sequential order.
Audience 1: End users
Today, the LaunchNotes platform is the industry's first and only dedicated launch platform. It helps change communicators (most often PMMs, PMs, and CSMs) deliver segmented change comms to the end users impacted by that specific change. It provides a crystal clear signal in an insanely noisy world.
As we often say, LaunchNotes gets the right information to the right user at the right time. Let's look at a few specific examples at how we accomplish this for end users:
If you're making an update to your API, LaunchNotes easily allows you to only notify the developers who have built on your API. No need to bother your entire user base with a technical change that only developers will care about.

If you're releasing a new feature on your Enterprise plan, and only want to notify Enterprise users of that new feature, you can again do this with a click in LaunchNotes. Every touch point you have with users is precious, and you don't want to burn your entire user list with an update that's only relevant to a small portion of them.

If there's a change going out that only impacts the admins of your product, but not the end users, you don't have to worry about hitting end users with a message about something that's completely foreign to them.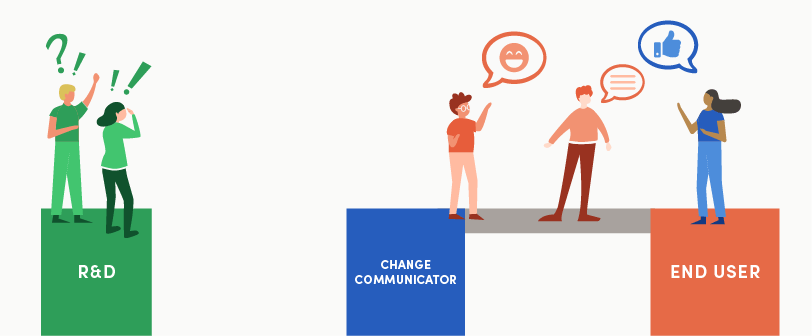 And it's working! Through easy segmentation and personalized comms, today LaunchNotes users are seeing over 50% open rates on comms sent via the platform, and feature engagement rates 3x higher than they saw prior to adopting the tool. The majority of our many happy customers are using LaunchNotes as one dedicated home for change, and to easily deliver segmented, personalized change into the hands of the people who need to know.
In short, the LaunchNotes platform is successfully bridging the gap between change communicators and end users. Mission accomplished!
But wait… not so fast. 😎
Audience 2: Customer-facing teams
Truth be told, as anyone who has worked on a software team will tell you, the public-facing announcement is the tip of the iceberg. The pain often felt around launch day usually begins weeks or months in advance. And this pain is centered around customer-facing teams not knowing, and thus not being prepared for, changes that are coming down the pike.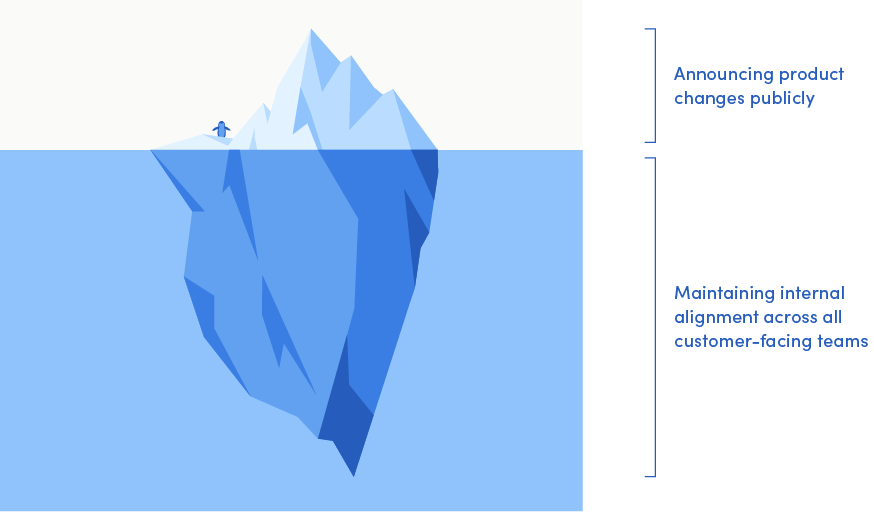 From day one we've known that if we're going to succeed in our mission to keep everyone aligned with the product development lifecycle, it's just as crucial that we solve this problem for both internal and external audiences. After all, it's the internal teams who are responsible for planning, coordinating and executing the external comms. If these internal teams aren't aligned, it's guaranteed that the hand-off to customers isn't going to be smooth or impactful.
Today, with LaunchNotes Private Pages, we're excited to announce that now internal teams can benefit from the power of LaunchNotes too! 🥳
LaunchNotes Private Pages allow teams and organizations to take the exact same functionality that users know and love across the platform--custom categories, a personalized announcement feed, product roadmaps, a customer feedback inbox--and lock it down to keep their internal teams aligned. So now it's not just end users who are receiving personalized, relevant updates at the right time, but members of every customer-facing team as well.
Here's how we're using a Private Page for our own internal communications here at LaunchNotes: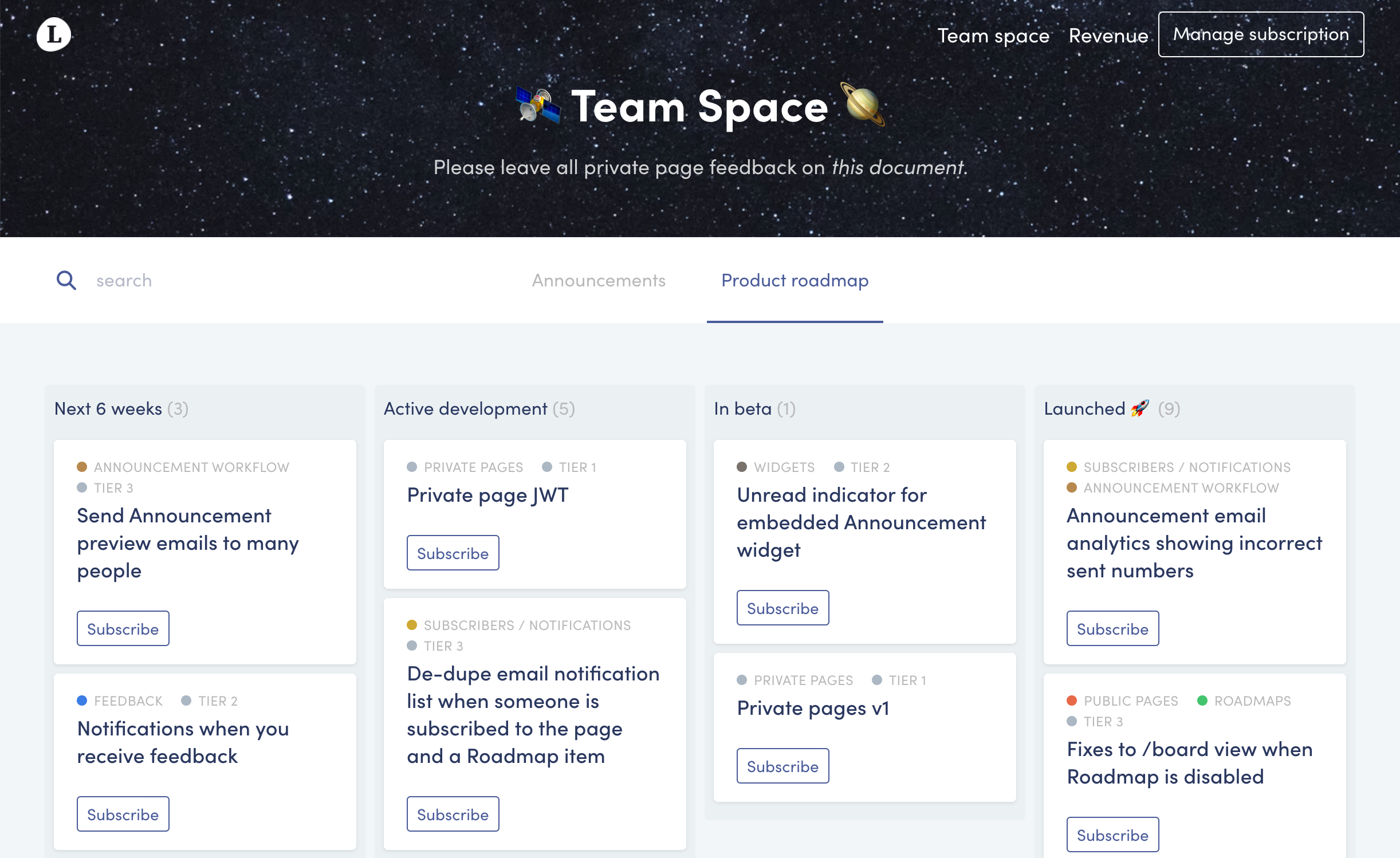 Let's look at a few specific examples:
Product Marketing can now stay perfectly aligned with what's going on in R&D and where relevant work is in the PDLC. No more features slipping between the cracks and reaching users before there's a chance to make a splash, and plenty of time to properly prepare before every announcement.

Customer Success and Customer Support will have one dedicated channel to understand what changes and updates are impacting which users when so they'll never be caught off guard by questions from customers.

Sales Enablement Teams and Account Managers can subscribe to receive updates on specific features that they know will unlock revenue for users. And both of these teams now have a bulletproof way to ensure they're always aligned with R&D, and never selling things too early or too late.
The list goes on, as the use cases for Private Pages are almost limitless. But underneath the hood, what makes this new offering so powerful is that it's built on the same platform that makes LaunchNotes so effective today: the ability to subscribe to (or be subscribed into) the updates that are relevant to you. Regardless of which audience you fall into, or which team you're on, with LaunchNotes you know you're always getting signal through noise at the right time.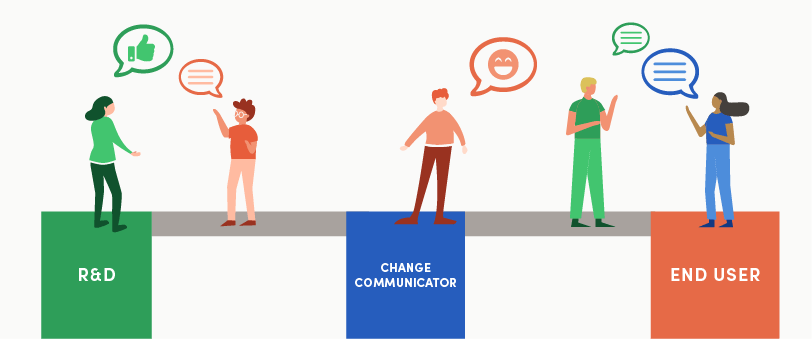 With our new Private Page offering, our vision of keeping everyone--both internal teams and end users--aligned with the product development lifecycle is a reality. By bridging the gap between technical and non-technical teams, we're not only removing a massive amount of friction and misalignment throughout every organization, but ultimately empowering your customer-facing teams to do what they do best: provide great experiences for your customers and users. The ultimate win/win!
Audience 3: VIP customers and external clients
But wait, there's one more thing...
While building out the security features and functionality necessary for teams to lock down their LaunchNotes page and roadmap, we went one step further: Our new Private Page functionality also allows you to safely share LaunchNotes environments with specific customers or clients. So, if you have changes that are vitally important to a particular audience, but don't necessarily want to broadcast those changes to the whole world, now you can.
Let's take a look at three specific examples (each of which we've heard from our customers) that this new functionality solves:
The ability for PMs and CSMs to share one consistent, up-to-date roadmap with high-value customers during quarterly business reviews. This not only eliminates the need for the creation and maintenance of cumbersome PowerPoint presentations that are immediately out of date, but also empowers select customers with a direct feedback channel that they can use to offer their thoughts on roadmap items.

For teams and businesses in a particularly competitive space, it's now possible to only show your announcements and roadmap to paying customers. No more worrying about competitors getting the jump on what you're building and beating you to market.

If you have a contractual obligation with a customer to deliver certain features and functionality by a certain date, you can now securely share a roadmap with this customer that allows them to follow along with your progress and, for legal and compliance reasons, see that you did in fact deliver what you were obligated to in the agreed upon timeframe.
In the early days of LaunchNotes we largely saw end users as a single audience, but based on customer feedback it became clear that some users needed an additional layer of privacy to communicate with segments of their end users. With that in mind, we're thrilled that this is now available with Private Pages.
How Private Pages work
Our first iteration of Private Pages enables the same LaunchNotes feature set--announcements for product changes, the product roadmap, and gathering feedback along the way--but limits access to only the audience you choose.
You can require authentication via Google or Microsoft SSO, or any identity provider that speaks SAML 2.0 (Okta, Ping Identity, OneLogin, etc.)
Check out what the process for setting this up looks like: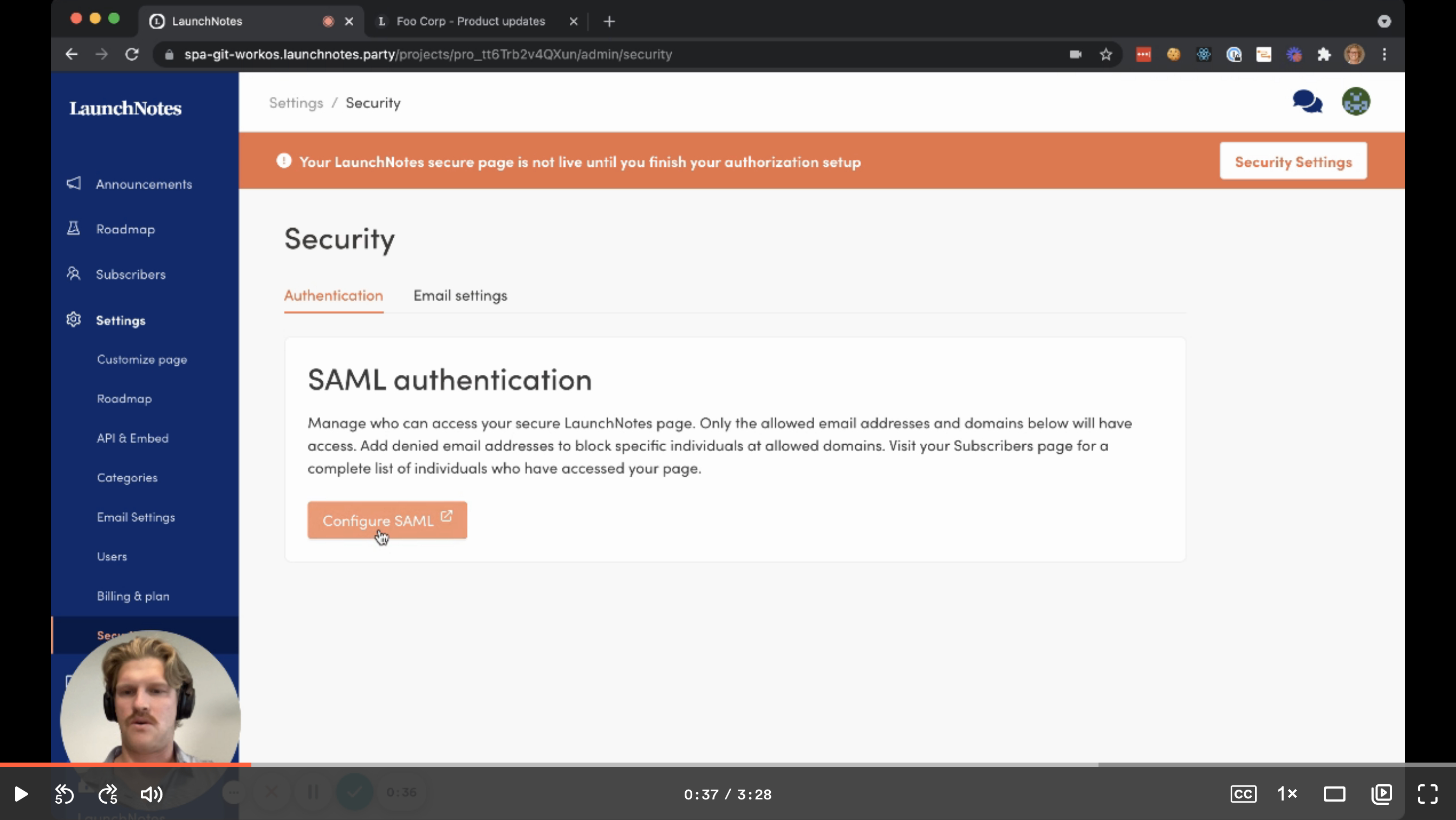 Pricing
Our new Private Page offering begins at $299/mo, but for a limited time we're reducing our Team tier to $99/mo! So if you want a dedicated channel to keep your team more aligned, reach out today and we'll be happy to get you up and running in no time.
To see everything included in our Team tier, hop over to the LaunchNotes pricing page. If you still have questions, or if there's anything else we can help with, book time directly on our calendar here.
What's next
Now that we've bridged the gaps between R&D teams, customer-facing teams, and end users, and any audience that needs to stay aligned with the PDLC can do so, the next phase of product development will focus on integrations to automate as much of this process as possible, as well as give additional insights to every LaunchNotes user.
For example, many teams are already powering their LaunchNotes instance using Jira or GitHub, but we intend to add a lot more tools to this list. Additionally, we know that many teams want to tie their work in LaunchNotes back to opportunities in their CRM so these integrations are top of mind as well.
All that said, we're in the planning phases and very much open to feedback! Is there an integration you'd love to see us build? Reach out and leave us some feedback to the left and let us know. 🙌🏼