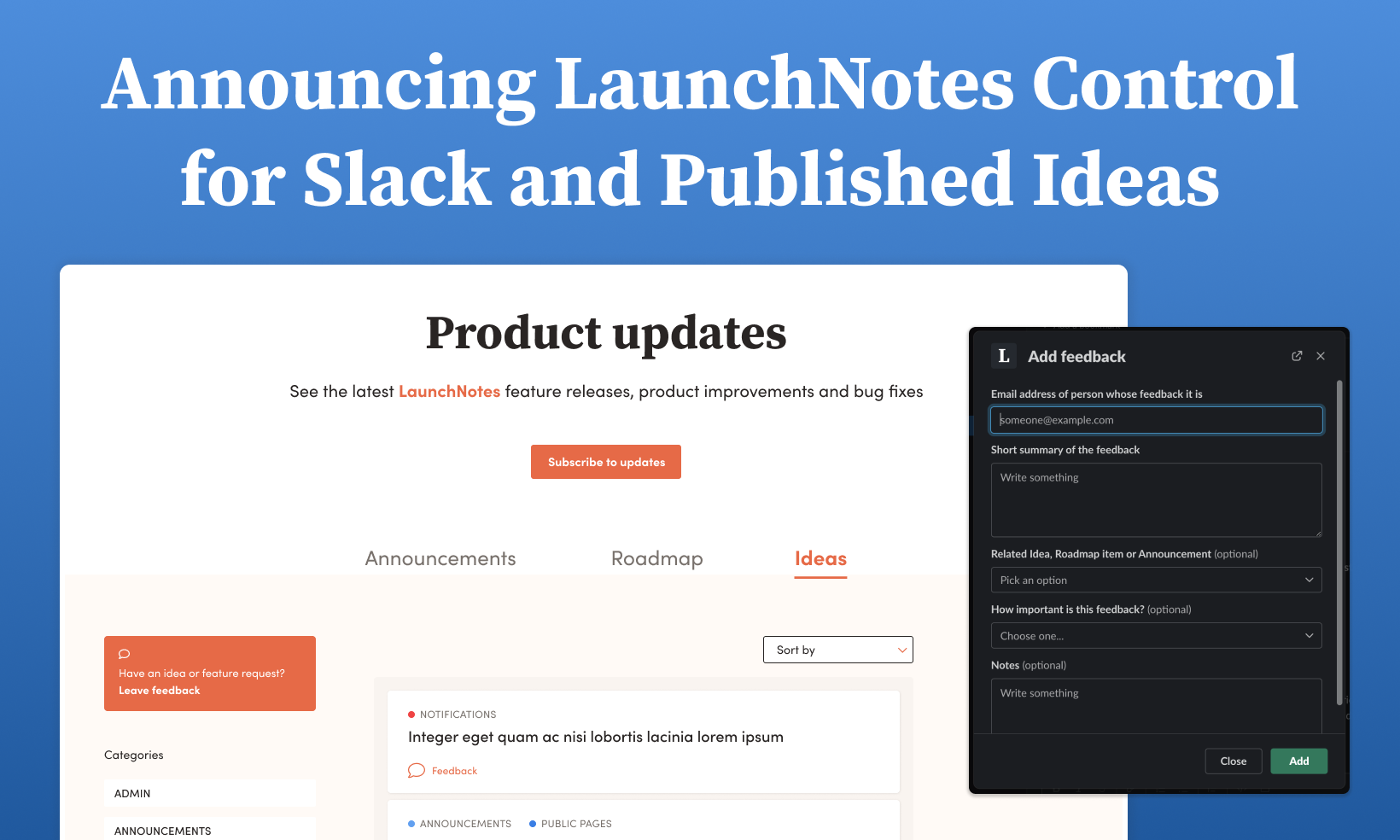 DATE:

AUTHOR:

Team LaunchNotes

RELATED ROADMAP ITEMS:
Customer insights
Private pages
Public pages
Announcing LaunchNotes Control and Published Ideas
DATE:
AUTHOR: Team LaunchNotes
In case you hadn't noticed, over the past few months we've been shipping improvements to our Feedback Collector fast and furiously. And given how well these improvements have been received we figured… why stop now?
With that in mind, today we're announcing another set of huge updates to how feedback is collected, consumed, and shared in LaunchNotes.
LaunchNotes Control for Slack
Today we're launching a brand new Slack integration designed entirely for your customer-facing teams. From support to customer success to product and product marketing, your teams are in contact with your users on a daily basis. The best thing they could be doing is collecting feedback from these users in a fast, repeatable, reliable way.
The question is: where and how should this feedback be collected?
Since most teams already live and work in Slack, we think that's an obvious place to start. And with our new Slack integration, we're allowing your teams to do exactly that!
And the best news? Since we're acutely aware everyone is already struggling with SaaS tool overload, anyone across your organization can submit feedback into LaunchNotes without ever having to log into the product once (and at no additional cost to you).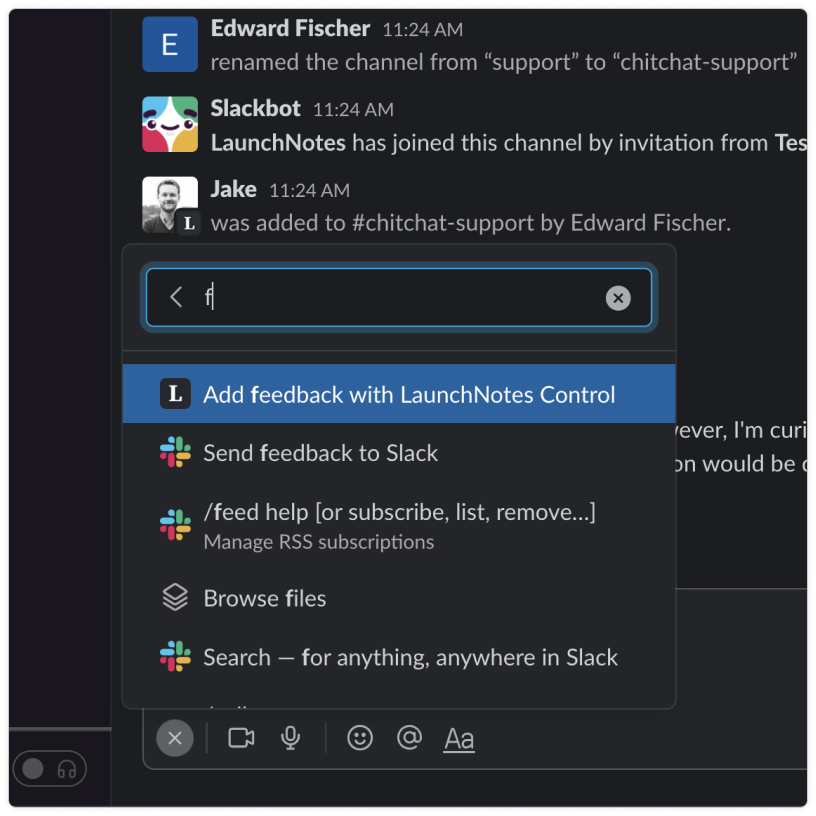 Two ways to collect and share feedback
Using LaunchNotes Control for Slack, we've created two easy ways for your teams to collect and submit feedback:
Shortcut command
The fastest way to add feedback is using a shortcut command. By typing slash "/" and then selecting 'Add feedback with LaunchNotes Control,' a feedback modal will instantly appear within Slack. Once the feedback modal is open, your team members can capture the relevant user feedback in seconds.
Importantly, this flow never requires your team members to log into LaunchNotes. They can capture feedback, add a note, connect it to an existing Idea, Roadmap Item, or Announcement, all within Slack. Need to set a priority to represent how urgent the customer need is? You can do that too. 
Message action
For those of you who aren't big fans of shortcuts or slashes, we've built a solution for you too. Clicking on any message's ellipsis menu and selecting "Add as feedback" will also launch our new feedback modal.
One advantage to using this method is that LaunchNotes Control can use the context of the conversation to pre-populate your feedback with an email address, author, content, and any other relevant details it finds. This makes it ideal for capturing feedback from anyone throughout your organization, as well as any customers or clients you've connected to your workspace using Slack Connect.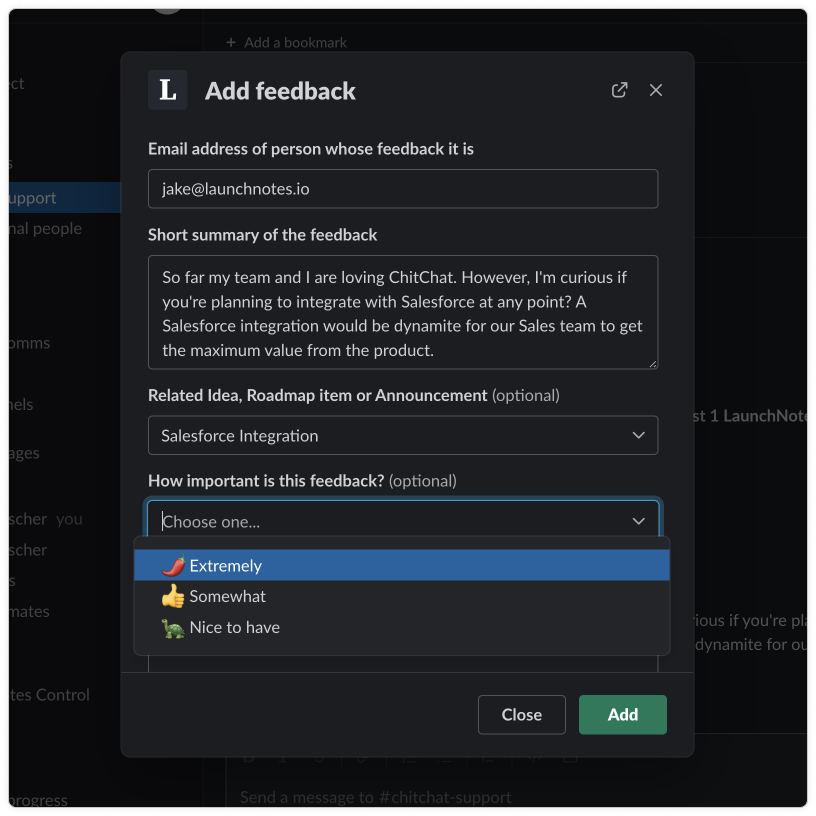 Install LaunchNotes Control for your entire organization
LaunchNotes Control gives every user in your Slack workspace the ability to create feedback in LaunchNotes without ever leaving Slack and without ever having to log into LaunchNotes.
To install LaunchNotes Control today follow these three steps: 
Sign into the LaunchNotes Management Portal for the page you wish to connect to Slack

Navigate to Settings → Integrations

Select "Install" and follow the step-by-step instructions from Slack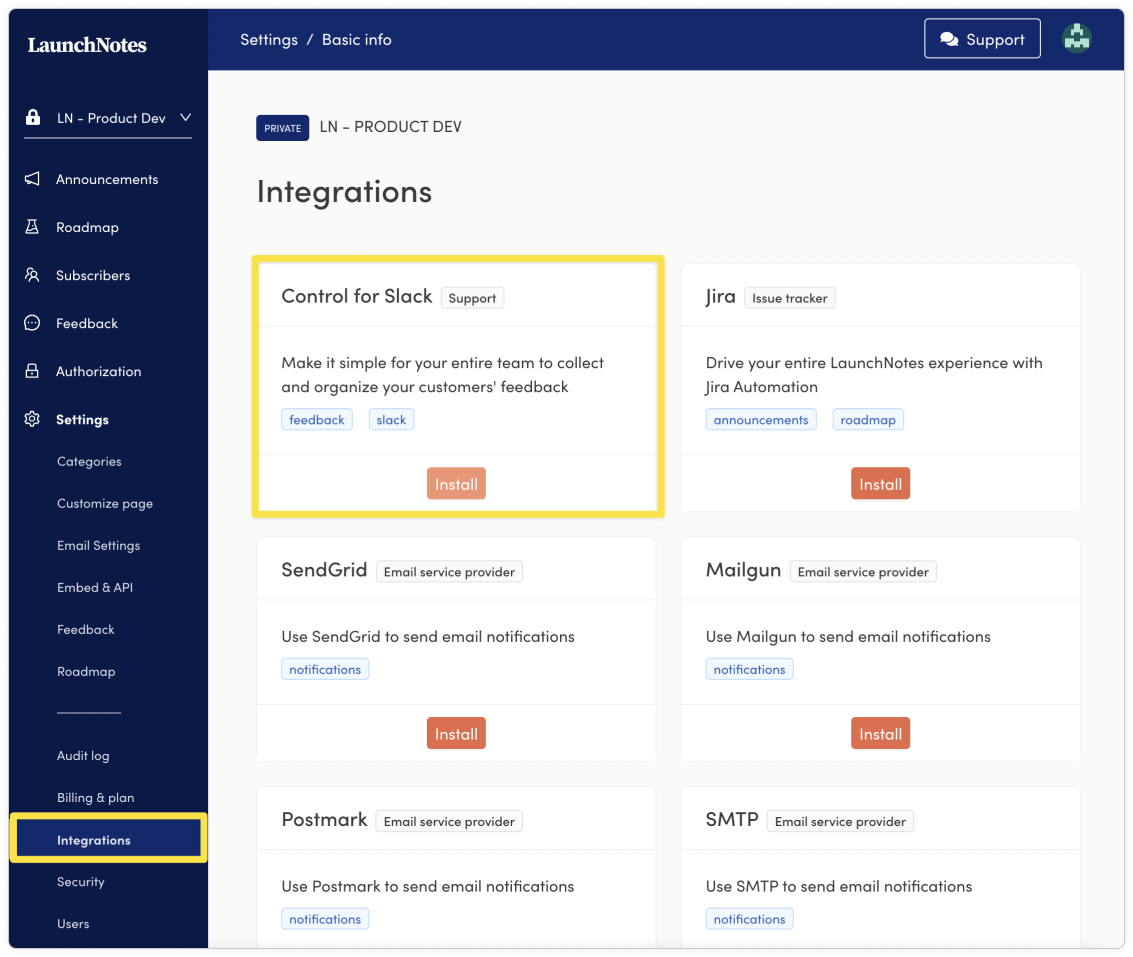 Feedback agents
With the release of LaunchNotes Control, we've also added a new user role: Feedback agent. Anyone who submits feedback and doesn't already have a LaunchNotes account will be automatically assigned the Feedback agent role. And for the sake of everyone's privacy (as well as your admin's sanity), the Feedback agent role can only create and organize feedback.
Agents will also never count toward any user limits for your organization, so there's no reason not to encourage your entire organization to submit feedback any time, anywhere!
Need some help or additional details? Review our Help Article. 
More to come
While a new Slack integration to uplevel LaunchNotes' Feedback Manager was our most requested integration, we also know feedback flows into organizations in a myriad of different ways (chat tools, support desks, etc.). For this reason you can expect additional "Control" apps to be launched in the near future. 
Next up?
By popular demand… Intercom!
It's no secret that Intercom is the conversational support tool of thousands of great companies across the globe (ourselves included)! And soon you'll be able to send feedback captured in Intercom directly through to LaunchNotes.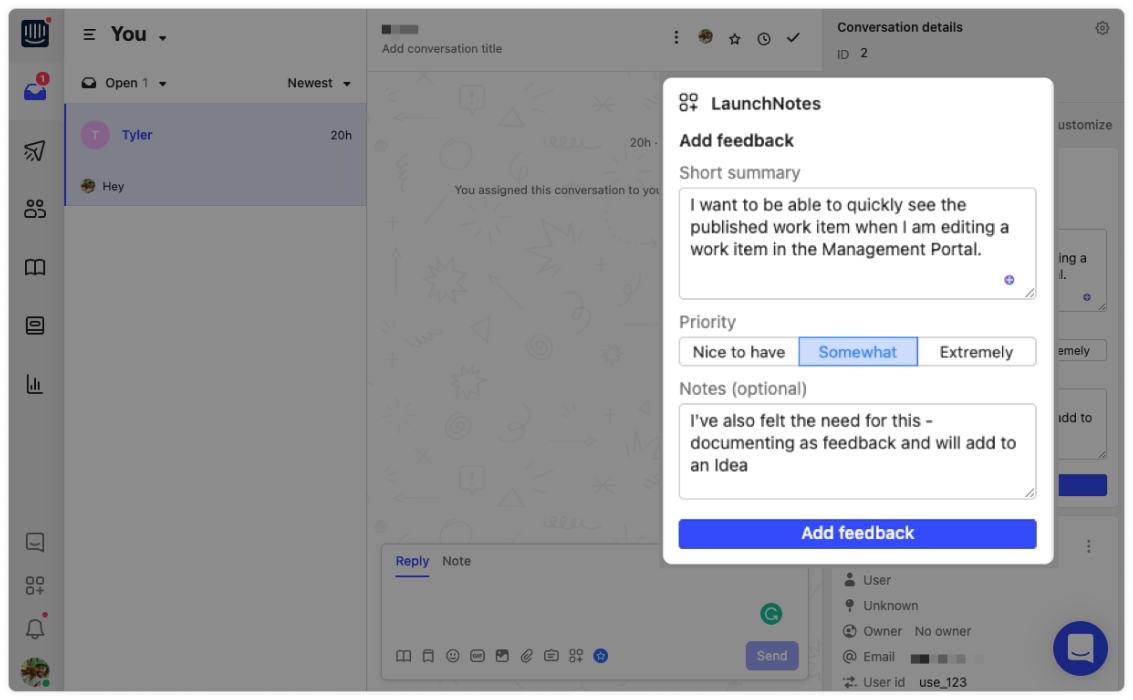 Help us prioritize our integrations roadmap
At the risk of being too meta, your feedback directly impacts what integrations we build next. So let us know where else your teams collect feedback, and what new Control apps you'd like to see us build next. We're all ears!
Published Ideas
Still with us? Good, because LaunchNotes Control for Slack isn't all we're announcing today!
Collecting feedback is vital, but it's only the first half of the equation. Once you have feedback flowing into LaunchNotes, how you're able to group, synthesize, and prioritize all of your user's feedback is equally important.
And to help you take on this challenge we're thrilled to announce Published Ideas, an optional tab on your LaunchNotes page that will allow your team to display Ideas you've curated in your Management Portal.
Publish Ideas to LaunchNotes Pages
As a refresher, we recently introduced Ideas as a fast, easy way to organize feedback into relevant containers to get a high level view of what work your users would like to see you prioritize. However, unlike roadmap items, Ideas are uncommitted pieces of work that you can use to indicate intention. As an example, we're intent on creating additional Control apps, but we haven't committed to which ones, or on what timeline. So we've created an Idea for it while we collect additional feedback.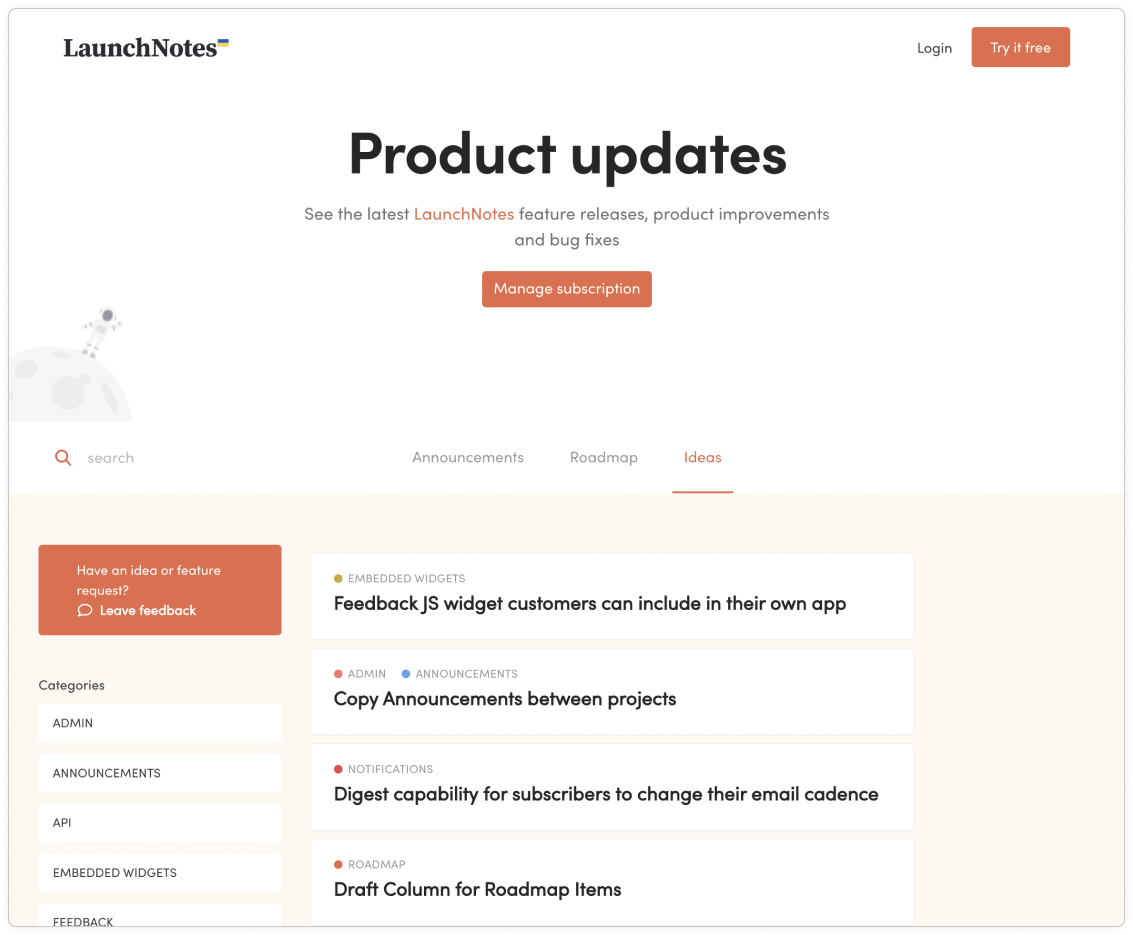 Now, by providing your team with the ability to selectively publish ideas, you can give specific audiences direct insight into what's currently under consideration and what you're thinking about building next. Up to this point teams have been able to sort and synthesize feedback within LaunchNotes, but the ability to selectively share these Ideas with relevant audiences (everyone from your end users to specific internal stakeholders to VIP/Enterprise clients) is yet one more avenue for increasing transparency, building trust, and creating an ongoing dialogue with the people who matter most.
See it in action!
In the words of Toby Keith: "I'd like to see a little less talk and a lot more action." In that spirit, so you can see Published Ideas for yourself, we've flipped it on for our own LaunchNotes page. We're still putting the finishing touches on this feature, but check it out and let us know what you think!
Coming to your LaunchNotes account soon
We're rolling out Published Ideas in the next week or so, so be on the lookout for it to hit your account soon! When it does land, here's how you can turn it on:
Sign into the LaunchNotes Management Portal

Navigate to Settings → Feedback → Ideas

Toggle on "Enable public ideas"

Navigate to Feedback → Ideas

In the "Published" column set the toggle to on for the individual Ideas
Sneak peek: Voting
Still not tired of new LaunchNotes features? We've got you covered! 🫡
We have a guess at what you're thinking right now: The ability to publish Ideas is great, but it'd be even better if we could let our users vote on their favorite ones. 
And we couldn't agree more!
Our dev team is currently working on Voting for Ideas, and we're excited to provide a quick overview of how it's coming together…
Idea Voting
With voting enabled, Ideas will soon include an arrow in the top left hand corner of every Idea. If a user selects the arrow it will constitute a vote. Note that users can also leave feedback on your Ideas from the modal, as well as peruse through all of your published ideas using the navigation arrows. Our goal in designing the modal this way was to create a lightweight and fast set of interactions that would maximize voting and feedback while reducing user fatigue.
Here's a quick look at Voting: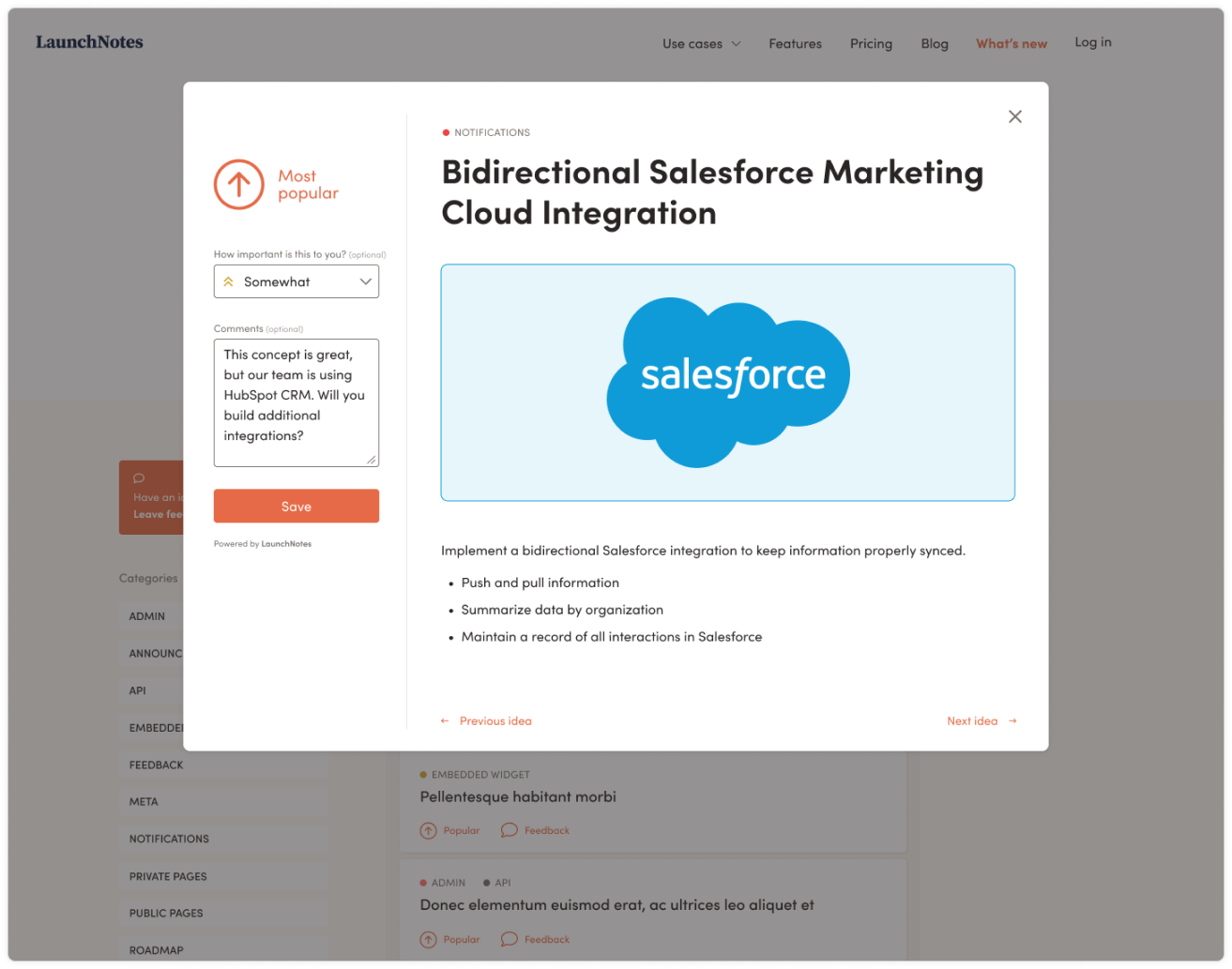 Thoughts? Feedback? Like it? Hate it? Let us know by leaving us some feedback! 
Bringing it all together 
While it's always exciting to ship new features, and we'll never let you down in that regard, we also don't want to lose sight of what all of these great new features and functionality are bringing you and your teams. At a high level, our upgraded Feedback enables:
More feedback earlier in your R&D process
Get more information than ever before about what you have coming up, and all before you commit development resources to them. You can be as transparent as you like with the voting, as well. We're introducing fuzziness as a way to avoid the pile-on that comes when customers can see what other customers are voting on. More on this soon! 
A continuous dialogue with your customers
Coming soon after will be the ability to tie an Idea, and the individuals that left feedback or voted on it, to a Roadmap Item, and ultimately an Announcement about its launch. Keep your customers and prospects engaged as you take feedback and bring it full circle to fruition.
That's all for now
If you made it this far, you deserve a pat on the back and a cocktail.


Thanks for reading, and you'll be hearing from us again soon!