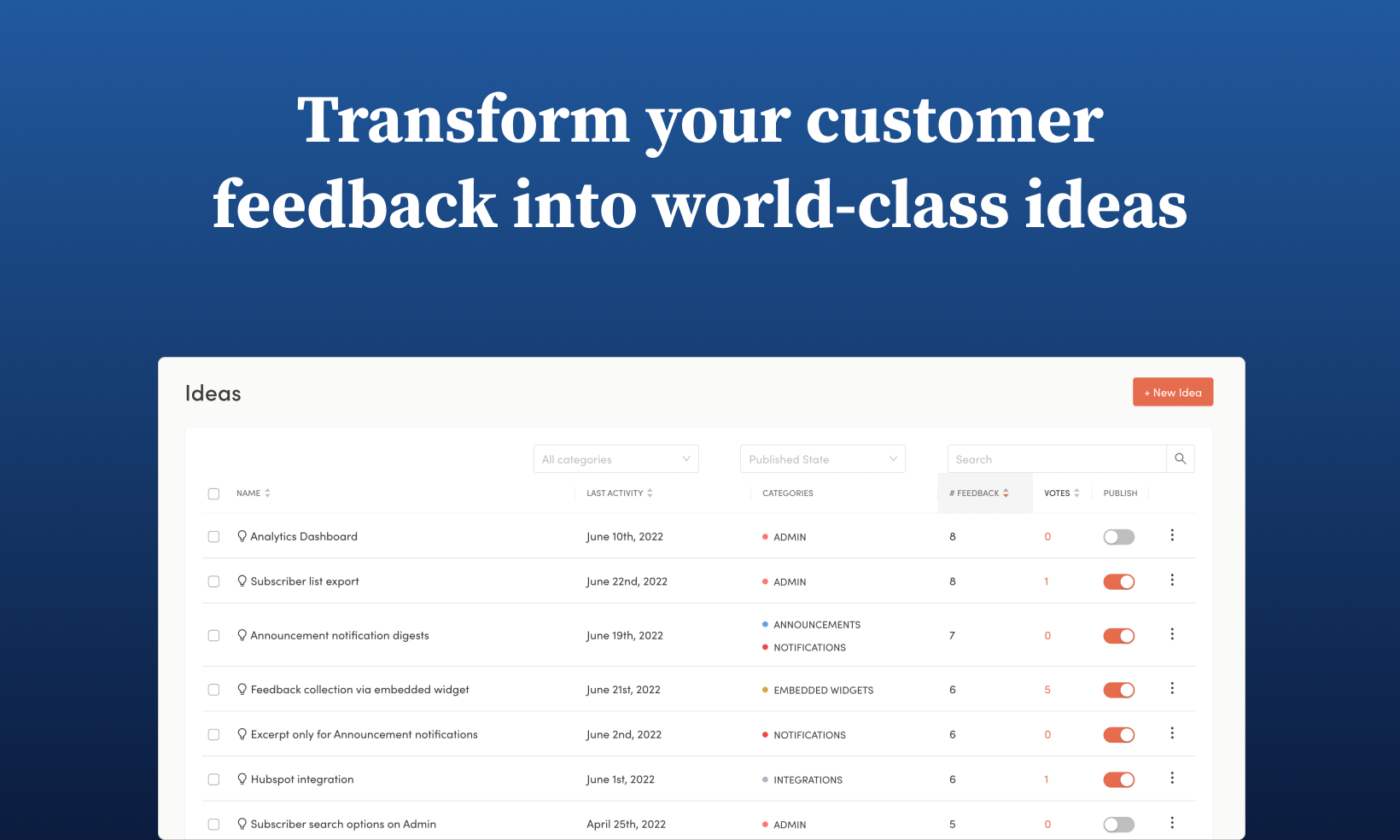 DATE:

AUTHOR:

Team LaunchNotes

RELATED ROADMAP ITEMS:
Announcements
Customer insights
Private pages
Public pages
Roadmap
Generally available today: LaunchNotes ideas and voting
DATE:
AUTHOR: Team LaunchNotes
Today we're over the moon to ship not one, but two of our most requested features: ideas and voting. Both of these capabilities are not only vital to enhancing the voice of the customer throughout your product development lifecycle, but also crucial to unlocking product success.
Last week, we shipped a significant update to our feedback inbox to help you better manage and categorize customer feedback. With today's updates, we're taking the next step in allowing you to further action on this feedback. 
The end goal? Ensuring you're always prioritizing and planning the most impactful work.
Generally available today is:
The ability to selectively publish ideas to your LaunchNotes page

The ability to collect feedback on these published ideas 

The ability to enable voting on published ideas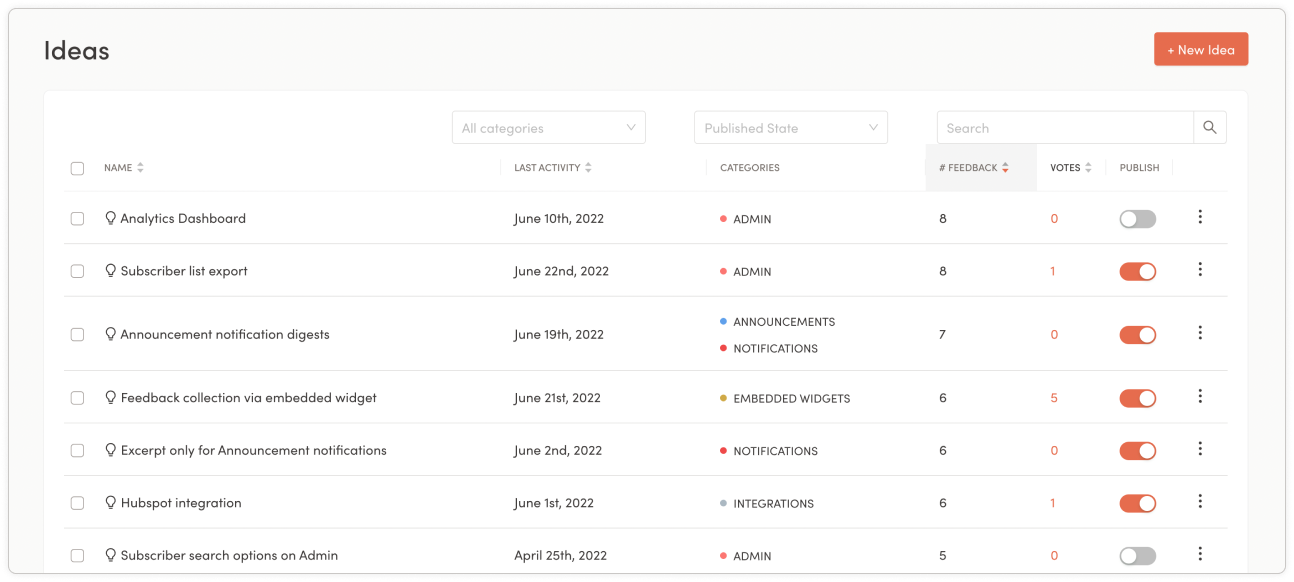 Collect qualitative and quantitative insights from your customers
When designing and developing our new ideas functionality, one of our biggest goals was allowing product teams to collect a strong mix of both quantitative and qualitative insights from customers. To accomplish this, we went one step further than voting capabilities and built in a feedback collection system for qualitative insights as well.
By harnessing voting (the quantitative) and feedback (the qualitative) together, product teams will now have multiple inputs at their fingertips as they strive to better gauge the value and interest of various ideas across their customer and subscriber bases. As they say, context is everything, and we believe having this added context will help teams not only understand what customers are asking for, but more importantly: why they want or need it.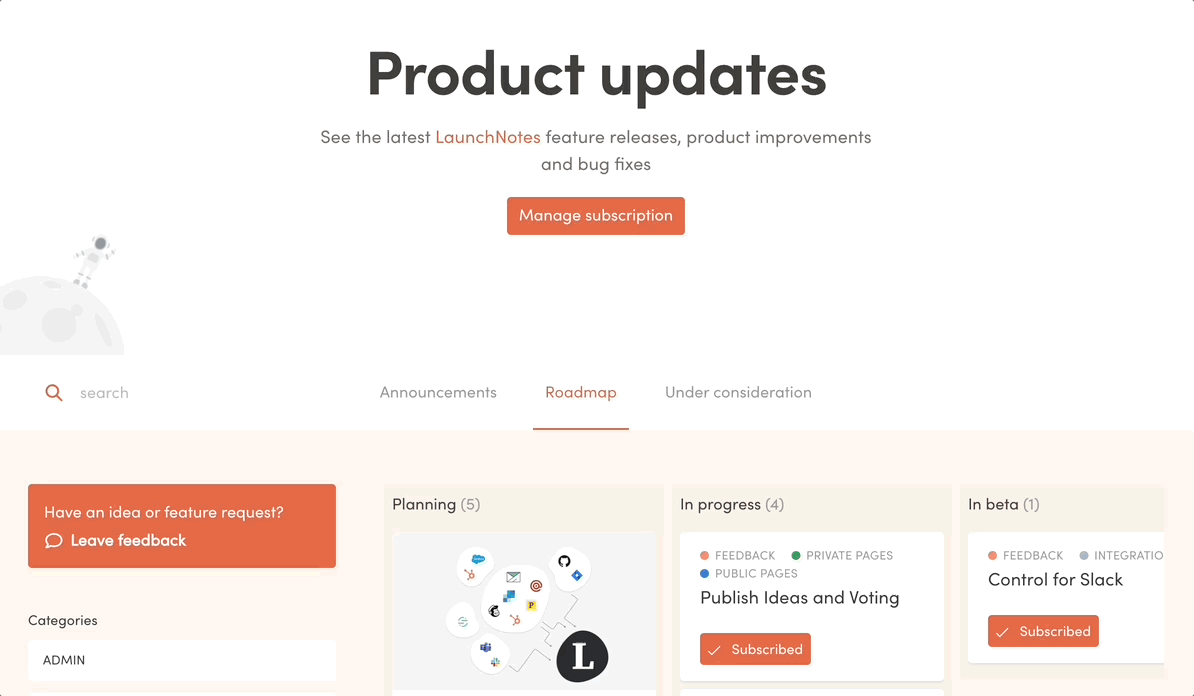 Armed with a stream of both qualitative and quantitative feedback, our new ideas functionality unlocks product teams to quickly and easily craft product roadmaps that reflect maximum customer value.
User-generated feedback with full admin control
We consistently hear from customers that user-generated feedback is critical to their product development. And we know firsthand how vital user feedback is to our own product development process.
However, quite often, due to any number of factors–high feedback volume, product managers not having enough hours in the day, lack of easy sorting and filtering, shifting company priorities–this feedback ends up unseen, forgotten, or ignored.
For this reason, we built ideas in such a way that puts the admin in the driver's seat and allows him or her to ensure they're always setting the proper context across work that's being considered. This unique approach allows product teams to easily and efficiently collect the insights they need, without ever risking the creation of an "ideas graveyard" that may never be actioned on (and that will likely anger users). Here's how we've accomplished this:

Feedback is optional: Admins can select whether to enable or disable feedback on ideas

Note: this is a global setting. If toggled off, feedback functionality on all published pages will be disabled

Voting can be turned on or off: Admins can enable or disable voting on ideas at any time

Vote counts can be hidden: Admins can choose to have public vote counts hidden, discouraging herd mentality and voting biases

The ideas tab can be renamed: Admins can rename the ideas tab to anything that suits their specific need or use case, ensuring they're always setting the proper context with visitors
Steps to turn on idea publishing and voting
If you've seen enough and are yearning to dive in and try all of this out for yourself, don't let us stop you!
To publish your ideas to your LaunchNotes page, alongside your announcements and roadmap tabs, enable published ideas in the settings menu of your LaunchNotes account (see above)

In here you can also make your selections around naming and voting preferences

And to publish individual ideas, click on the ideas nav item in your admin portal and simply select which ideas you'd like to make public
Two additional improvements that are just around the corner
Roadmap commit: While not landing today, a fast follow-up that's already in planning: the ability to turn an idea into a committed roadmap item with a click

Voting attribution: Also just around the corner is the ability to view each vote - including who voted and when
A few ideas we're still considering (and would love your feedback on :))
Fuzzy views for voting: The ability to present additional, directional data points–such as rank, popularity, and magnitude–on each idea 

Voting notifications: The ability to be notified when a vote has been cast
Excited about one or both of these ideas? Head over to our ideas page (which we've renamed to "under consideration"), cast your vote, leave us some feedback, and let us know what priority each of these ideas would be for your team!
As always, we'd love your feedback!
What do you like about the features in this release? Any suggestions on how we can improve these announcements? Content, style, frequency? 
Drop your comments and feedback to the left. Thank you!