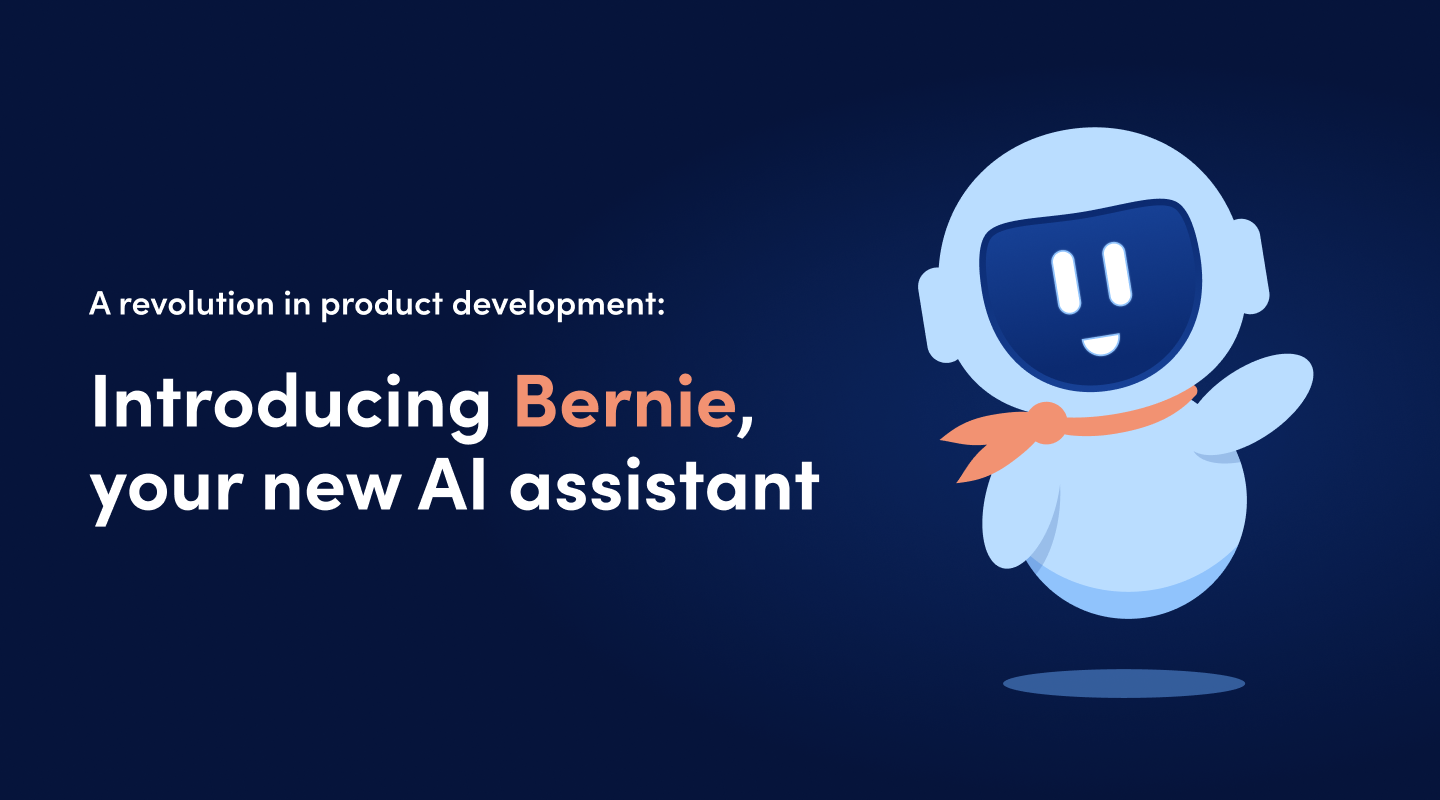 DATE:

AUTHOR:

Team LaunchNotes

RELATED ROADMAP ITEMS:
Announcements
Customer insights
Notifications
Private pages
Public pages
Roadmap
LaunchNotes' artificial intelligence layer is here
DATE:
AUTHOR: Team LaunchNotes
While we take enormous pride in the velocity at which we ship new features and improvements here at LaunchNotes, it's no secret that not every new piece of functionality is created equal. From big new features to enhancements of every shape and size to the steady stream of bug fixes, our product and engineering team is heads down day and night taking care of all of it.
With that in mind, today's release is the single biggest improvement we've made to the product since it came out of beta over 2.5 years ago. The addition of a new artificial intelligence layer throughout the LaunchNotes platform represents a quantum leap forward in terms of the value that users will enjoy and will allow product teams everywhere to significantly accelerate their product development lifecycle.
Or, expressed more succinctly by one of our early beta testers: "Holy sh** this is a game-changer!"
Introducing Bernie, your personal AI assistant 
Today team LaunchNotes is ecstatic to introduce you to Bernie, the newest member of your product team.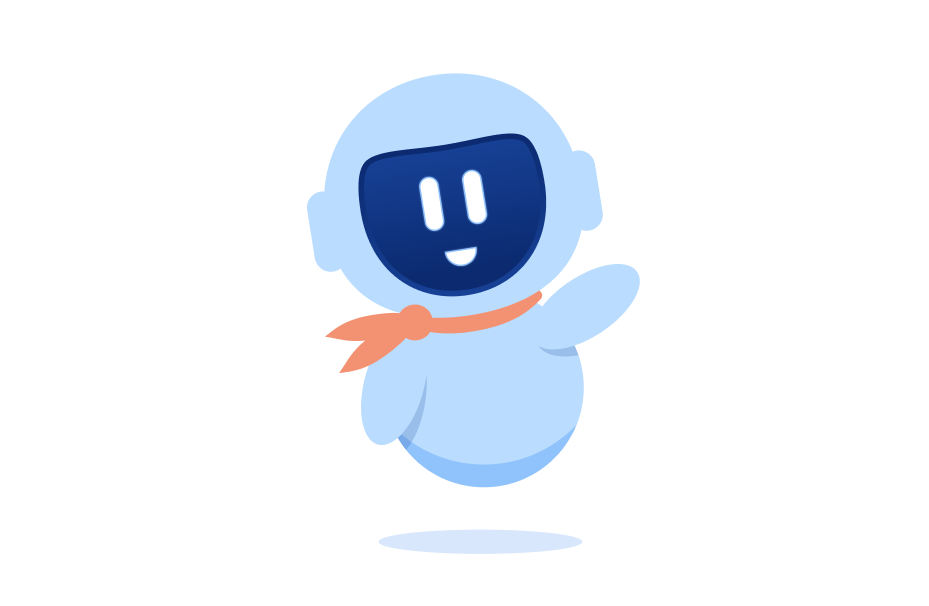 Bernie (which is short for Bernadette… more on this below) represents a new AI layer we've built into the LaunchNotes platform. Her sole responsibility is to help you supercharge your product development process and, when asked, will automate any number of tasks, from drafting new announcements in seconds to running automated sentiment analysis on customer feedback.
Sound too good to be true? As a sneak peek, here's Bernie turning a list of bug fixes into a paragraph of text that can then be inserted into an announcement with a click: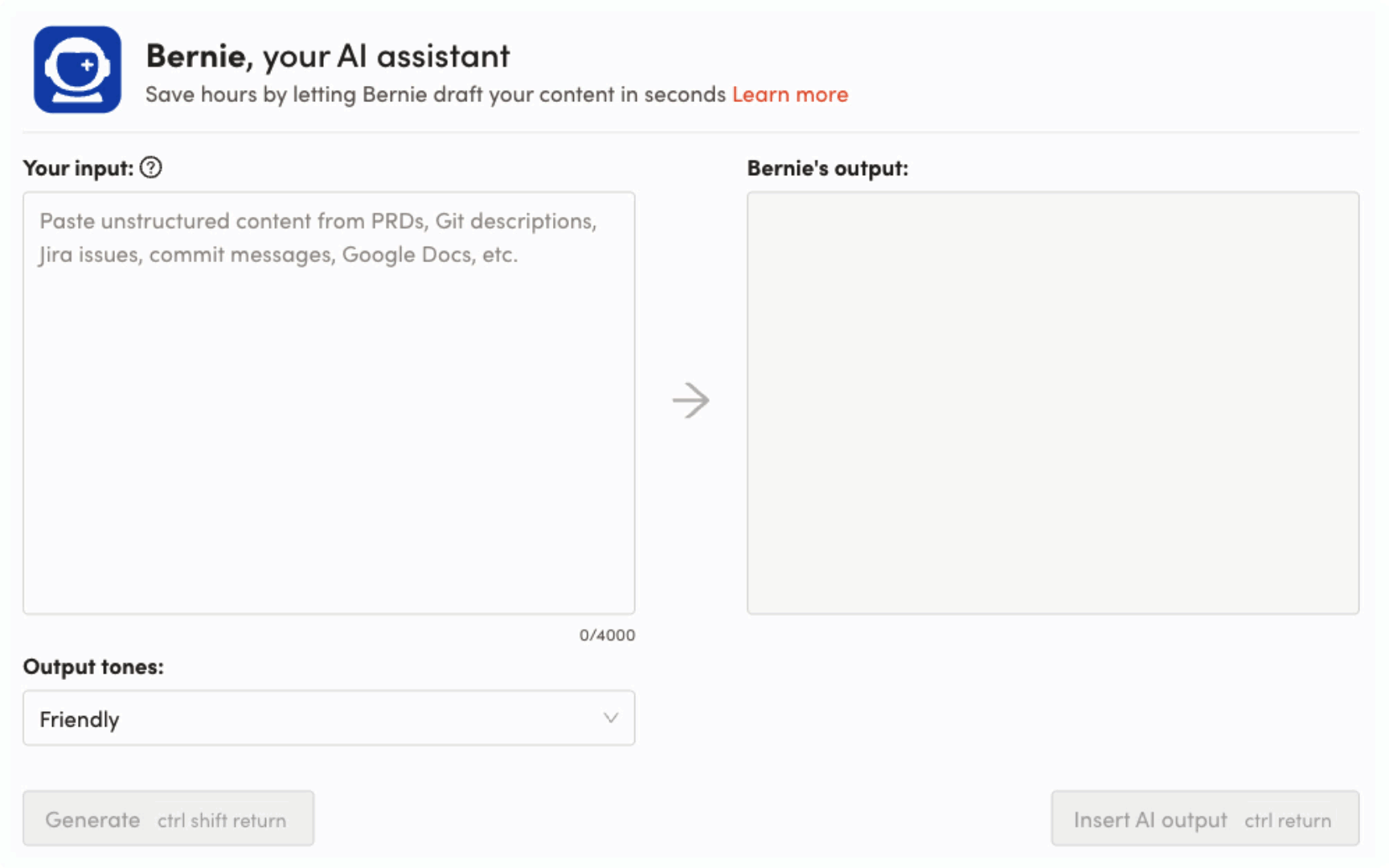 If you've ever truly wanted to turn hours of work into minutes of work, this is how it's done.
Supercharging Product Success with AI
Before we go any further on what's shipping today, we thought it'd be valuable to share our longer-term vision of how we plan to fully leverage this new AI layer to accelerate product teams of every shape and size.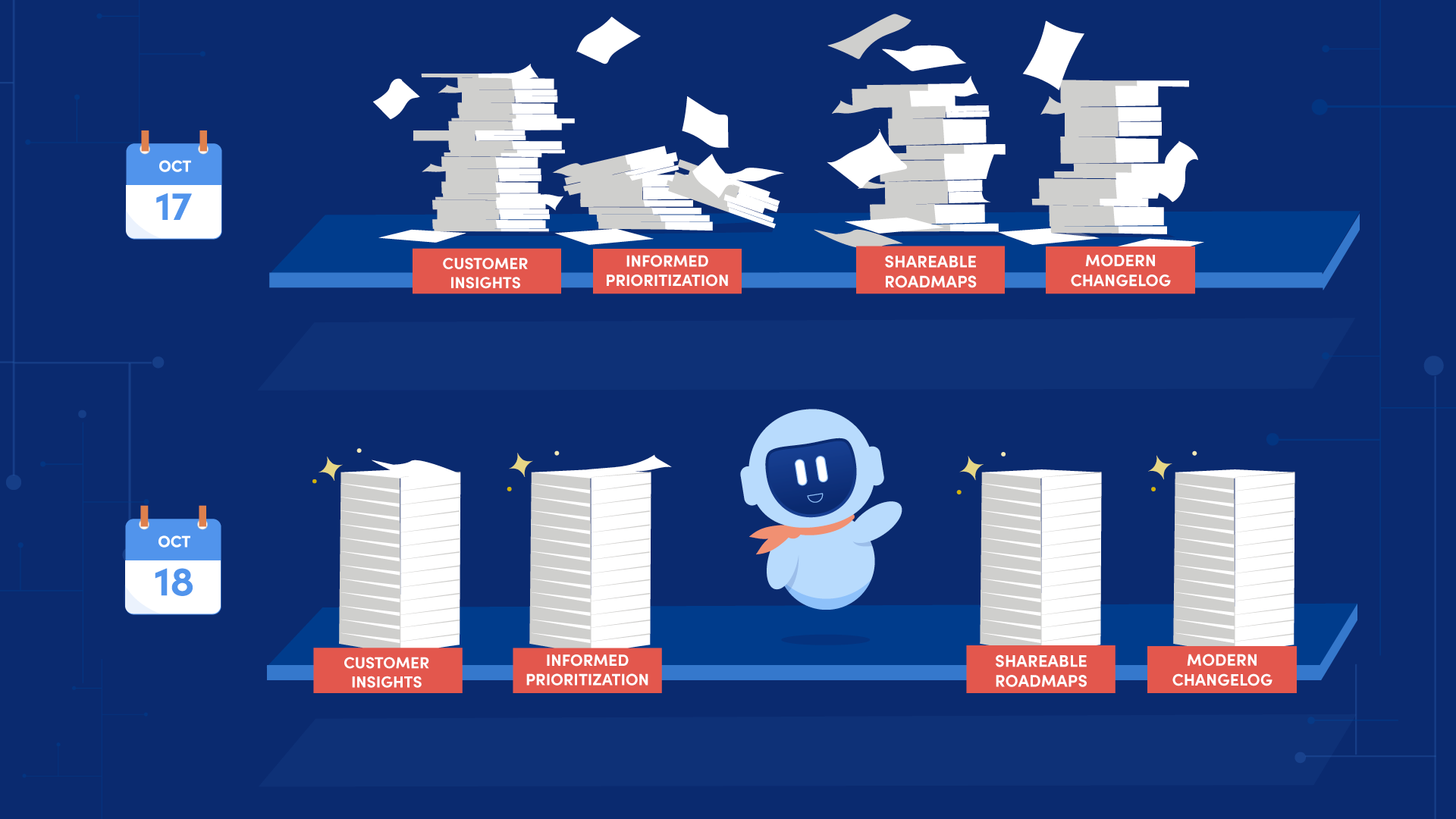 LaunchNotes' mission is to enable teams to unlock and achieve Product Success. Today, the platform is powering Product Success at hundreds of leading organizations, and it does so by tying together the four key pillars of the product development lifecycle: planning, building, shipping, and feedback collection. Not surprisingly, we are actively building Bernie to be a force-multiplier in each of these four categories.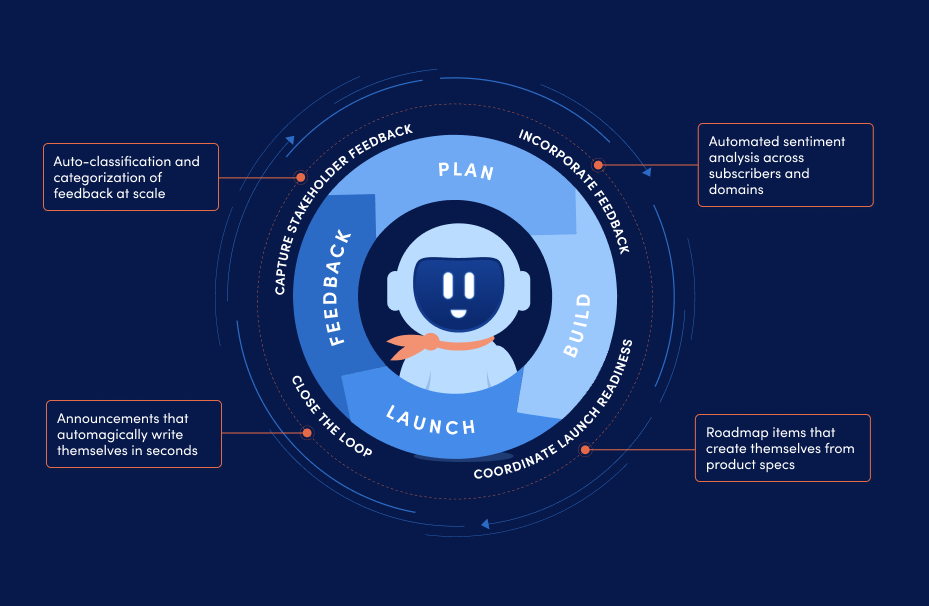 Imagine a world in which LaunchNotes will automagically sort and categorize customer feedback, surface relevant insights from this feedback, provide you with real-time sentiment analysis across each of your subscribers and domains, and allow you to write and publish announcements in minutes instead of hours. This is the world we're actively building, and it's way closer than you may think!
Here are a few specific areas we're particularly excited about unleashing Bernie on:
Auto-classification and categorization of feedback, particularly at scale

Semantic search that reduces and ultimately eliminates duplication of feedback items and ideas

Automated topic modeling that identifies and surfaces customer insights from feedback items (even, and especially, at massive scale)

Auto-categorization of announcements, feedback, ideas, and roadmap items
Layering an AI assistant throughout the LaunchNotes platform has the potential to augment every aspect of product development and communications, not just accelerating the processes, but intelligently accelerating the entire lifecycle for product momentum and success.
But now that we've got your attention in terms of what we're building, let's get to what we've shipped!
Live today: LaunchNotes' AI writing assistant
While we have grand plans for this new AI layer, we decided to start by building in the area where we believed Bernie would have the greatest impact: helping you draft content across both announcements and roadmap items. With our new AI writing assistant, we've reduced the time it takes to write and publish announcements from hours to minutes. Watch: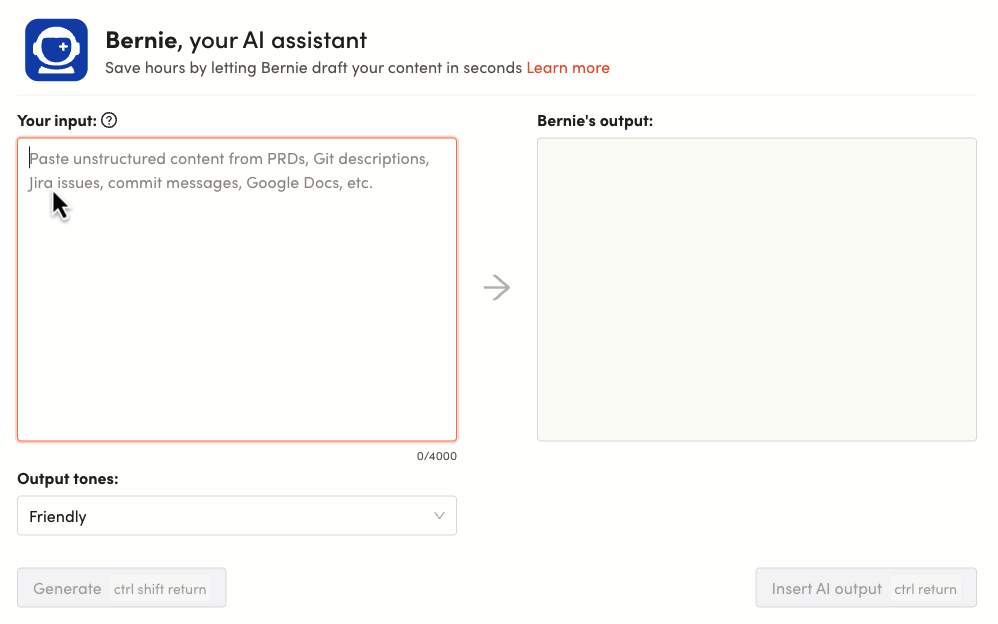 But Bernie's value goes far beyond time savings, she also helps with writer's block. As you see above, Bernie turns this list of fairly technical content into a beautifully written paragraph of text in mere seconds. And while we chose to copy in a list of recent commit messages for this particular example, we've designed her to be able to easily deal with any and all unstructured content or data, no matter how technical. For example, you can give Bernie a description from a Git merge, a PRD, a SQL query, or even info right off a Jira or Linear ticket. Regardless of what you ask her to write for you, she'll generate a beautiful draft of those changes consumable by even non-technical audiences.
Additionally, our AI writing assistant isn't just for announcements, but also drafts roadmap items for you as well!

Regardless of where you need writing expertise, our new AI writing assistant is the perfect way to ensure your announcements and roadmap items are clear, concise, and engaging. It's also intuitive, easy to use, and will save you hours every week.
Everything you'd expect from an Enterprise-grade AI writing assistant
While auto-generation of content is magical on its own, what we're shipping today doesn't stop there. Our product and engineering teams have gone above and beyond to ensure Bernie comes with all the bells and whistles your product team expects, including:
The ability to adjust Bernie's tone between concise, friendly, or informative, depending on the output that will best resonate with your audience 

The option to regenerate Bernie's copy as many times as you'd like if she doesn't hit the mark the first time around

No usage limits, meaning Business and Enterprise users you can use Bernie as much as you'd like for no extra cost!
Note: While Bernie is certainly magical, she's not a mind reader. With that in mind, it's always important to proofread her output and ensure it's exactly what you want prior to inserting it into announcements. Relatedly, the more context and content you provide Bernie, the better her output will be!
Next up: AI-powered sentiment analysis
In the next week, we'll be shipping the next iteration of Bernie: automated sentiment analysis! Since launching our new feedback capabilities 3 months ago, many LaunchNotes users are now collecting hundreds of feedback items per week. Since we know how time-consuming it is for product teams to sort through feedback items manually, we've asked Bernie to begin augmenting this task. And she said she'd be happy to.
We're putting the finishing touches on this new functionality, and it should be live any day now. More very soon!
Getting started with Bernie
Bernie is live today for all Business and Enterprise customers. To begin using our new AI writing assistant, simply hit the Bernie icon within the editor the next time you create a new announcement or roadmap item. Then paste or write your content into the input box, select your desired tone, hit Generate, and you're off and running. It's that easy.
For even more details on Bernie, visit our knowledge base article here.
Bernie's backstory
Bernie's name is actually short for Bernadette, a rental van that our co-founder Tyler rented in Australia a few years ago. If you're curious to hear the whole backstory, and the importance of Bernadette in the LaunchNotes story, check out this short Loom:


We love your feedback
As always, we are eager to hear about your experiences with our new AI writing assistant. Thoughts? Questions? Concerns? Complaints? Ideas for improvement? We want 'em all!
Please don't forget to drop us your feedback using our feedback collector on the left. Bernie is standing by to read, categorize, and then provide our PM team with insights from your feedback!