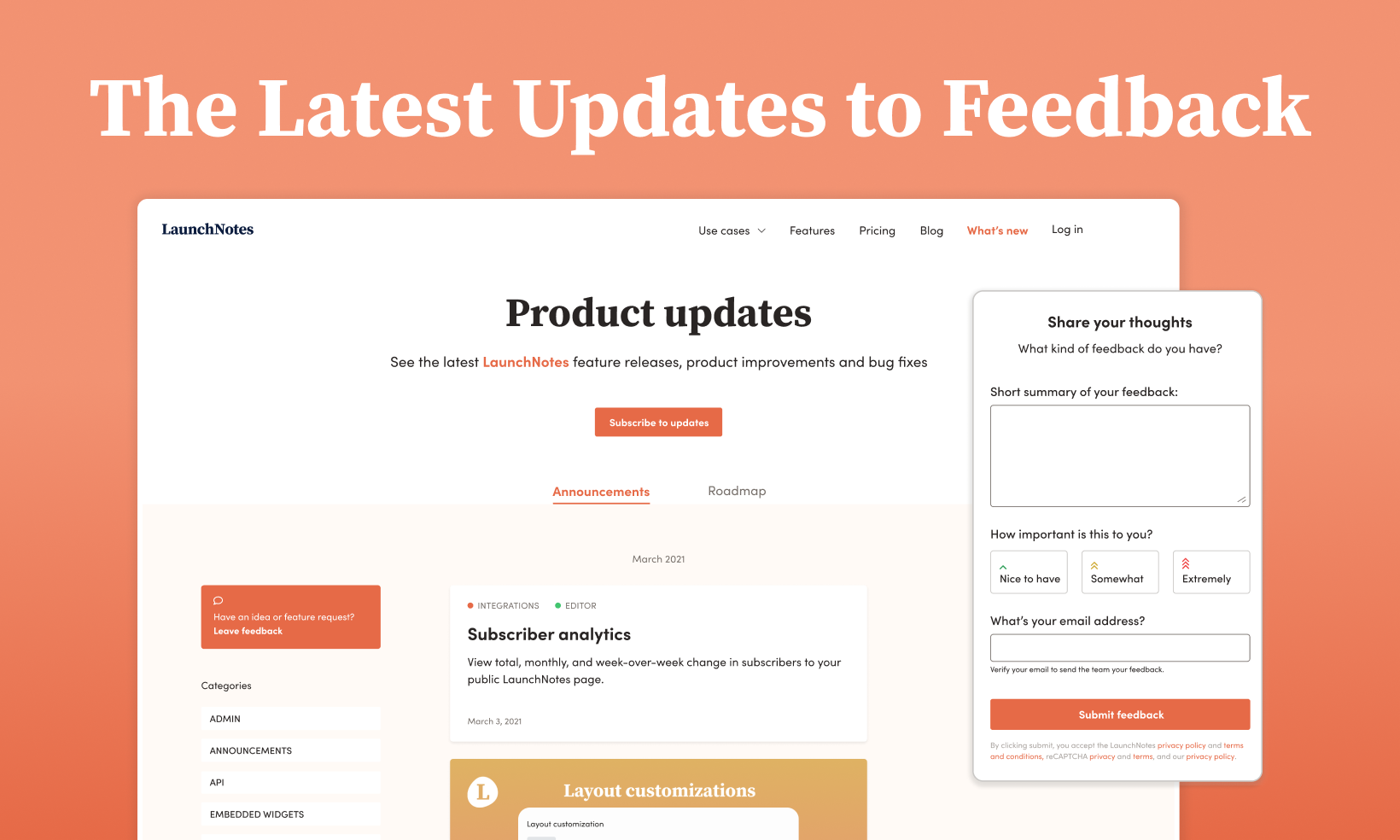 DATE:

AUTHOR:

Team LaunchNotes

RELATED ROADMAP ITEMS:
Customer insights
Public pages
Feature Friday - March 25 🚀
DATE:
AUTHOR: Team LaunchNotes
Today we have a very special Feature Friday announcement: Next week we'll be bringing the latest updates to Feedback out of beta and making them generally available! 🥳
These new features will be available to any organization on LaunchNotes Business and LaunchNotes Enterprise.
Three ways we're upleveling Feedback 🍄
In case you missed the beta announcements (part one and part two!), LaunchNotes is introducing several significant improvements to feedback collection and management:
🎁 General Feedback Form: You can now collect feature requests and general feedback, even if it's not tied to a specific announcement or roadmap item. The general feedback form also allows you to gather a description, measure level of impact/importance, and capture the stakeholder's email address for easy follow-up.
📥 Feedback Inbox: Now you can view all of your feedback in one unified inbox! And you'll be able to find general feedback that isn't associated with an existing announcement or roadmap item in a new "Needs organizing" tab. You can then attach this feedback to the appropriate Announcement, Roadmap Item, or Idea.
💡 Ideas: Ideas are the perfect way to categorize feedback related to concepts that haven't yet made it onto your roadmap yet. Use Ideas to collect and group feedback items under one umbrella for easy sorting, filtering, and prioritization.
Evolving from a monologue to a dialogue 👥
When speaking to prospects and customers, we often refer to the feedback functionality in LaunchNotes as a powerful tool for building and maintaining a dialogue with their users, as opposed to the common monologue that exists today.
While Announcements and Roadmaps are valuable in that they show what's shipped and what will be shipping, items on your Announcement feed and Roadmap are inherently static since they only exist in a specific moment in time. In short, these items exist to be communicated out and discussed, and its LaunchNotes' Feedback Manager that transforms these otherwise static points in time into a vehicle through which to truly engage in a dialogue with your users. With this latest round of updates we're making it much easier to not only spark a great conversation with your users, but also help you identify and track trends across these many conversations.
We all know that there's a massive delta between listening and hearing. At LaunchNotes, we're building tools that allow you to truly hear your prospects and customers alike. And we're building it in such a way that provides you with the controls to empower your users to surface the signal through the noise for you!
Do I have to use the General Feedback form?
The short answer is no. If you're using, or want to use, LaunchNotes' powerful Feedback functionality, but aren't quite ready to include the general feedback collector and/or the feature request button on your LaunchNotes page, there's a very easy way to hide it.
To hide the general feedback button, simply drop in this bit of custom CSS:

Interested in completely disabling feedback collection from your page? This update also introduces a global setting to fully disable feedback.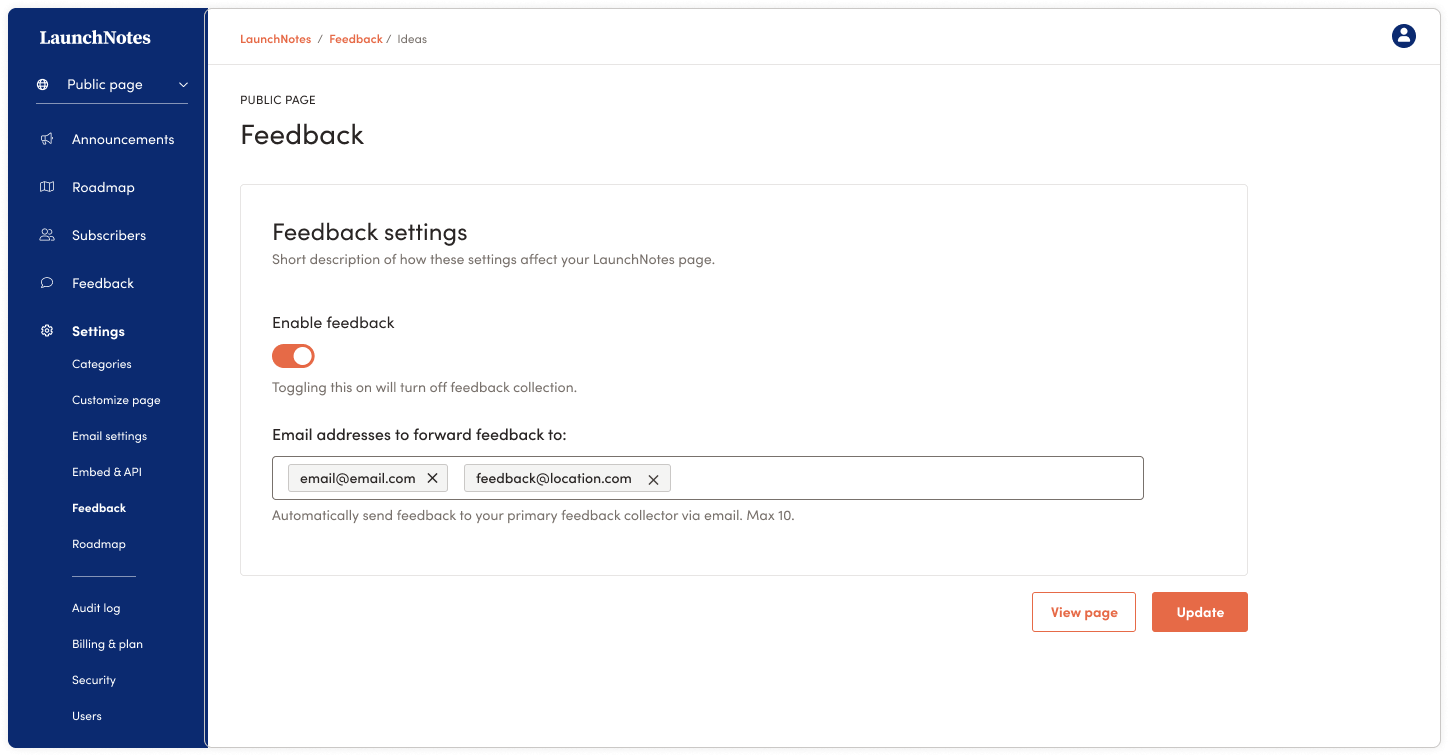 Last chance to join the private beta ⌛
While we're aiming to roll all of these features and functionality out next week, it's not too late to join the private beta! To join, simply drop us a line via the feedback collector on this announcement or shoot us a note at support@launchnotes.com.