DATE:

AUTHOR:

Team LaunchNotes
Announcements
API
Embedded widgets
Customer insights
Integrations
Meta
Notifications
Private pages
Public pages
Roadmap
Administration
LaunchNotes: 2022 Year in Review
DATE:
AUTHOR: Team LaunchNotes
One of our values here at LaunchNotes is "always be celebrating," and as we close out 2022 we have a lot to celebrate! It was a year of incredible growth, product momentum, and strong collaboration across our team, with our customers, and throughout the broader community, we serve.
We kicked off the year with a bold mission to drive product success for the world's most innovative product teams, and achieved this by significantly expanding the capabilities of our four core platform pillars: 
Product feedback at scale

Ideas that inform prioritization

Public and private roadmap sharing

And last, but not least, closing the loop
The three biggest fan favorites of 2022
Throughout 2022 our team took a very focused and deliberate approach to enhancing the platform. And while we shipped dozens of exciting new things that advanced our mission (you can find a full list of everything we shipped just below!), based on your usage data, there were three areas in particular where we really hit the bullseye for you, our many wonderful customers:
1. Ideas and voting
This year we went big on improving our feedback functionality. Perhaps the biggest advancement was the introduction of a brand new concept into the platform: Ideas. Based heavily on your feedback, and after an extremely successful 2-month Early Access Program, in June we made our new Ideas & Voting functionality generally available to all. This new addition to the platform up-levels users' ability to collect, manage, synthesize, categorize, and validate feedback, all in an effort to make this feedback actionable for your team.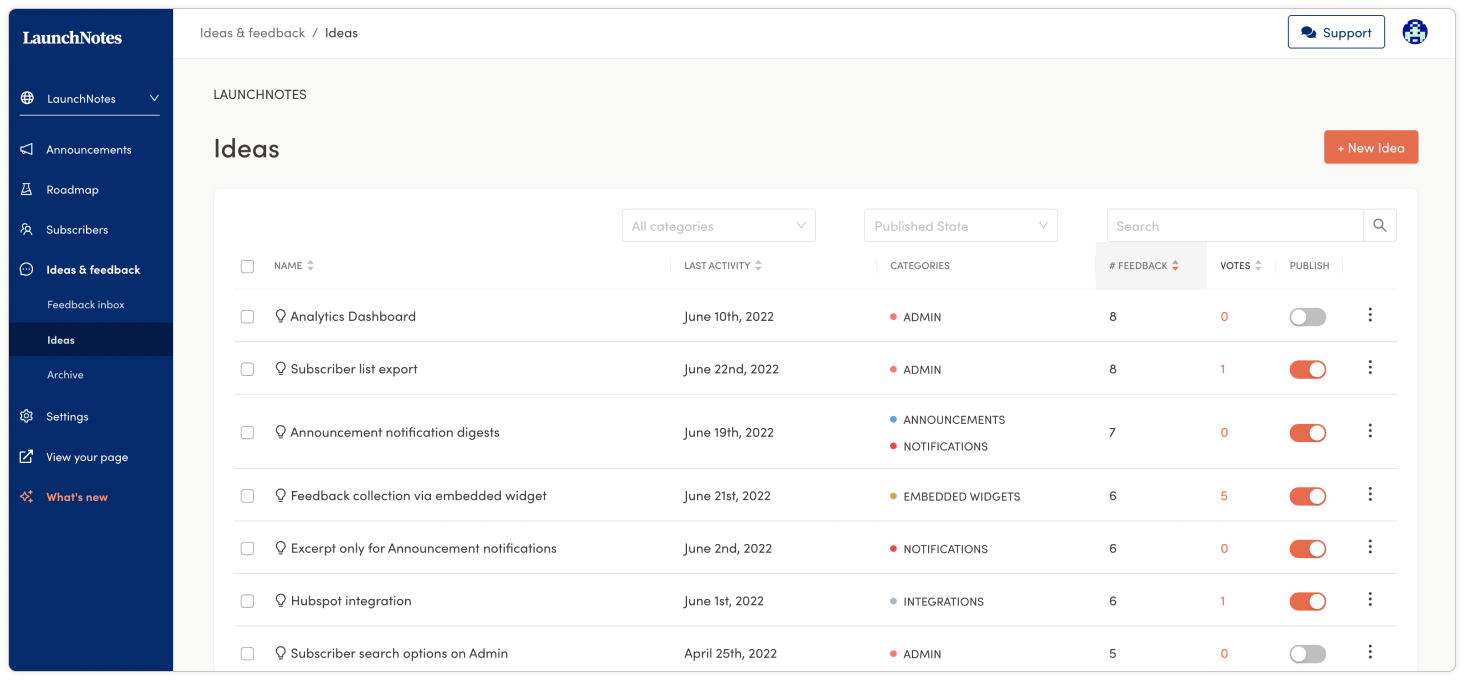 While we're still in the early days of unlocking teams' ability to better prioritize their work, based on usage data our customer base was hungry for both Ideas and Voting, and we're thrilled to see so many leveraging these features today.
2. Bernie, your AI assistant
Perhaps the biggest quantum leap forward our platform has seen in its three-year history was the addition of a new artificial intelligence layer we affectionately named Bernie. From announcements to roadmap items to auto-generating sentiment analysis against feedback, the addition of AI into LaunchNotes is reducing manual work for product teams by up to 90%. Bernie not only represents a quantum leap forward in terms of the value our users are enjoying from LaunchNotes on a day-to-day basis, but more importantly unlocks product teams' ability to significantly accelerate their overall product development lifecycle and ship features and functionality faster than ever.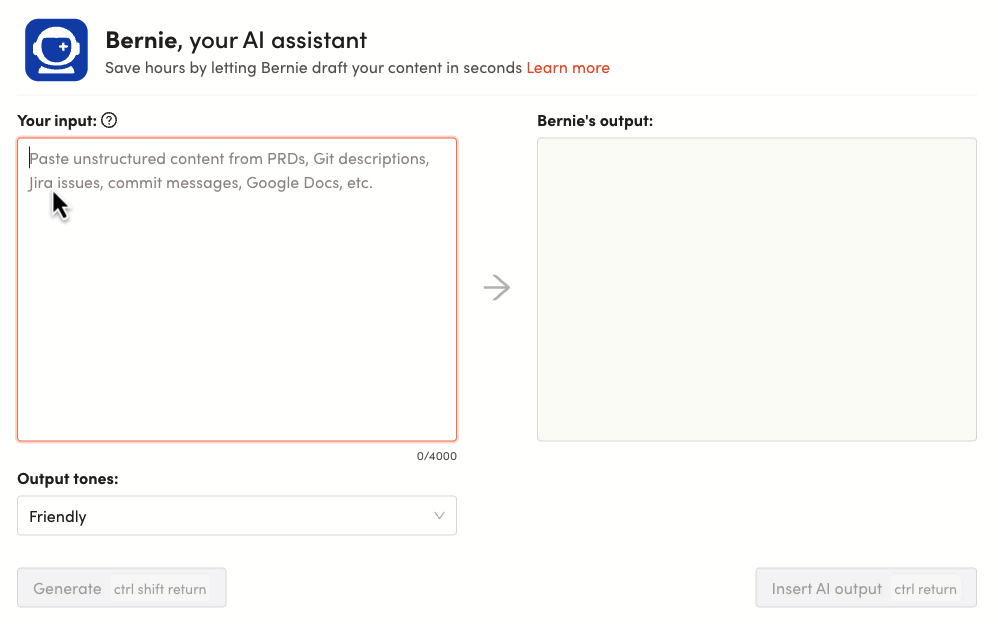 Based on the warm reception and strong adoption we've seen with Bernie, we know she's a fan favorite. Rest assured we have big plans for her in 2023 and beyond!
3. The project analytics dashboard
It's no secret that you can't improve what you don't measure. Moreover, we know that the best product teams rely heavily on data (both qualitative and quantitative) to make informed decisions quickly. In that spirit, we shipped a brand new project analytics dashboard that centralizes the myriad of valuable data collected across the LaunchNotes platform. Our new dashboard isolates and provides in-depth metrics across announcements, project subscribers, page and widget views, new voting activity, and all feedback. Notably, the feedback portion of the dashboard is powered by AI and automatically runs sentiment analysis and feedback topic modeling!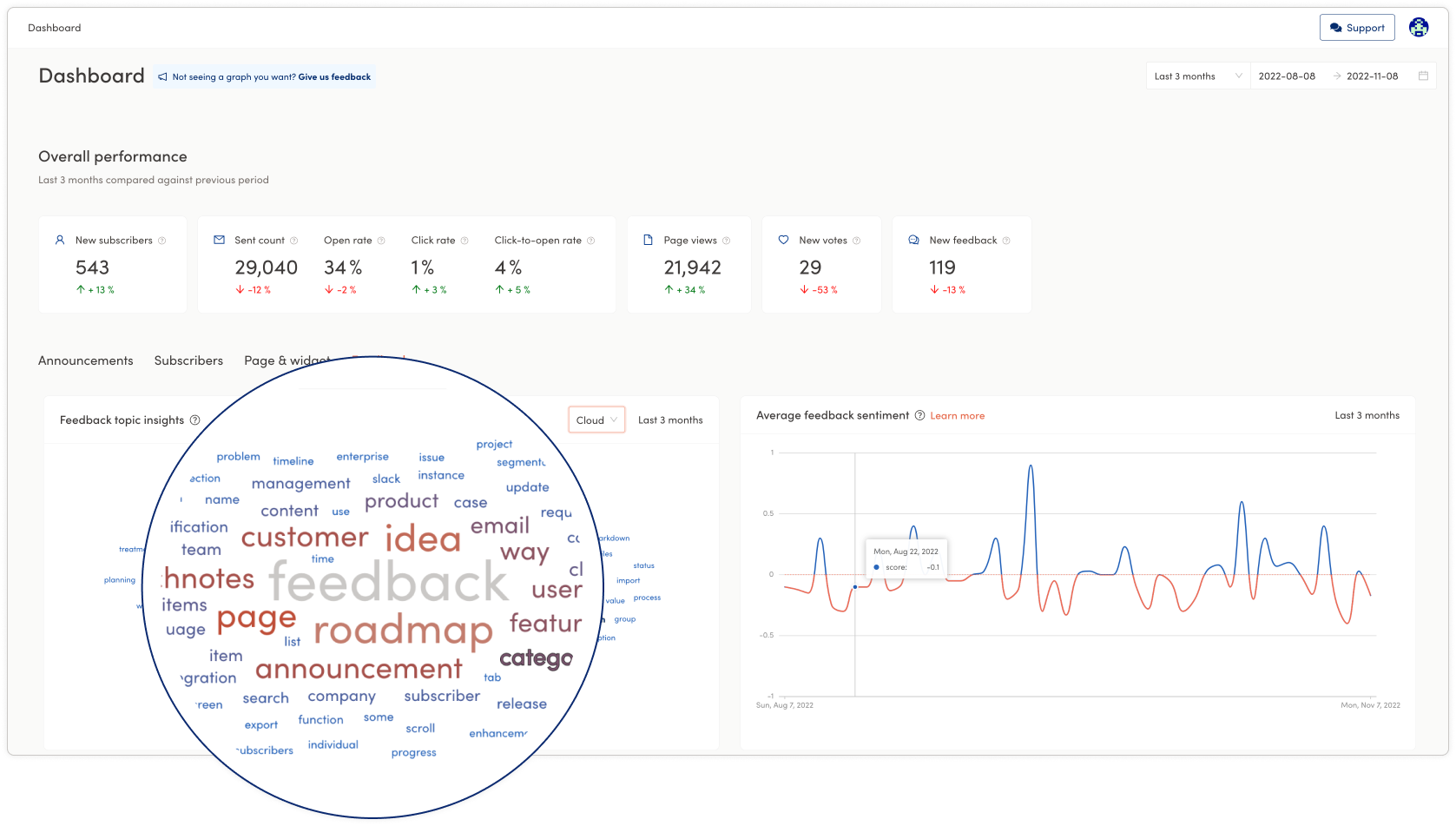 Today the project analytics dashboard is the most active part of the platform, not only signifying that we hit the mark for our customers in the near term, but moreover that we should continue investing in new ways to enhance and visualize data that will help product teams make the most informed decisions possible! Much more on this in 2023…
Honorable mention: LaunchNotes Control for Slack
Over the last few years, we've all been struggling with remote working and SaaS tool overload that's come with the new dynamics of the workplace. With this in mind, we built LaunchNotes Control so anyone across your organization can submit feedback into LaunchNotes without ever having to log in to LaunchNotes once (and at no additional cost)!! Control allows teams to quickly capture customer feedback and get it to the right person or team in the product organization…fast!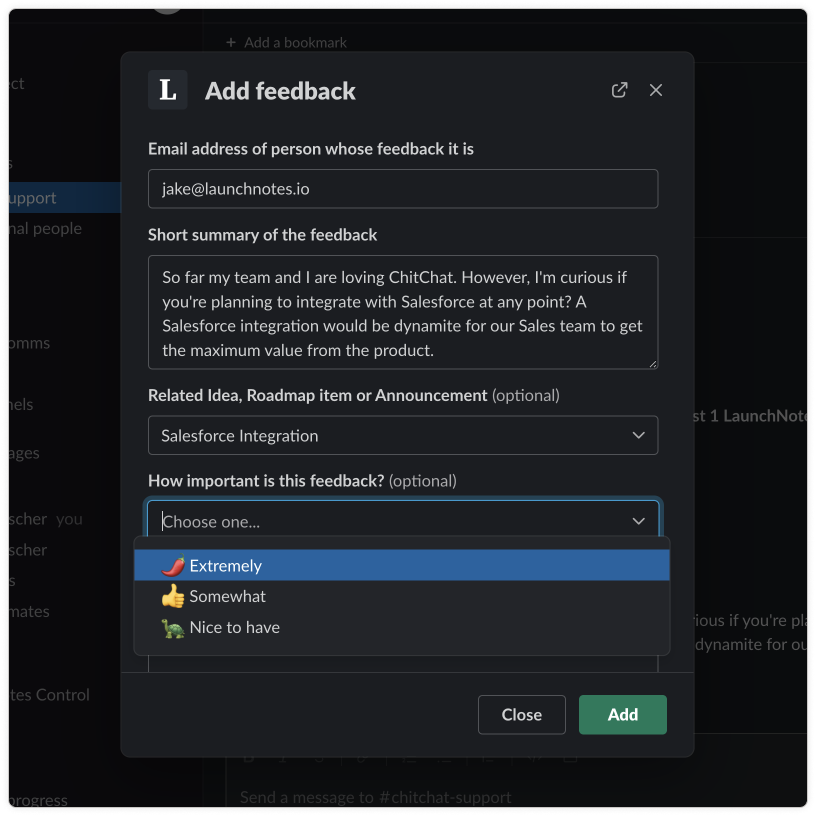 Since launch, we've observed in the data an off-the-charts response of teams adopting and using Control to collect and submit feedback into LaunchNotes at a high velocity. And we've heard directly from front-line teams-customer experience and sales-that Control has accelerated the creation, delivery, and fidelity of feedback because it can all be done in Slack, either while in a meeting with a client or directly after the meeting when the customer insight is "hot off the press". We're excited to build upon all the feedback features we built this year with a slew more in 2023. Buckle up!
A 12-point rundown of 2022 highlights
We kicked off the year with the release of a custom footer in January, making it a snap to match a LaunchNotes public page to the guidelines and branding of a website.
In February, we released several major updates, led by the Early Access Program for a feedback inbox, our first step to organizing and categorizing feedback all in one place.
March saw the addition of ideas to organize related feedback items into a group container to help product teams better understand and prioritize users' needs.
LaunchNotes control for Slack landed in April. Control enables anyone on a team to submit feedback via Slack without ever having to log in to LaunchNotes. 
A more robust subscription model was implemented in May to add more flexibility and clarity in how your announcements reach your audience. 
In June we shipped the feature set for publishing ideas & enabling voting. This release unleashed the capabilities to 1) selectively publish ideas to public or private pages; 2) collect feedback on those published ideas; 3) enable voting on published ideas.
For July, we fielded our first innovation week, which delivered 6 feature prototypes. We shipped 5 of those 6 features within the month, one of the favorites was enhanced UI responsiveness on the roadmap.
August saw new capabilities for admins and contributors to view the voting history on the ideas show page in the management portal.
September was a big month for admin management features, including a much-asked-for upgrade to the subscriber management feature set.
Then there was October when we introduced the first AI-powered writing assistant to the platform, Bernie
!!
And in November, we doubled down on our AI-powered features with automated sentiment analysis, and topic modeling, and to roll it all up, for an executive-level view of the performance of the product development and communications across the platform, we delivered the analytics dashboard. 
Before December winds to a close, we have a few more exciting and significant updates to announce next week. These are in progress as we wind down Q4 and should be coming in hot in Q1!
What we're most excited about in the new year
Conversations to easily start and maintain an ongoing dialogue with your users
Conversations will provide an opportunity for customer-facing teams to level up their engagement with their clients and their clients' feedback. All with just a few clicks, LaunchNotes conversations will both drive dialogue and collaboration on feedback items amongst internal teams, and also enable engagement and external dialogue with customers, keeping them in the loop of how and when their feedback is being addressed.
Interested in following our work on conversations and joining the Early Access Program in early January? Subscribe to the roadmap item and jump on board!
Enhancing feedback with revenue data through our Salesforce and Hubspot CRM integrations
Beginning with Salesforce and Hubspot CRM, we're building new integrations that bring revenue data from your preferred CRM directly into LaunchNotes. These CRM integrations are some of our most requested features, and we can't wait to show you what the team is developing.
Interested in following our work on CRM integrations and joining the Early Access Program in early January? Subscribe to the roadmap item here.
Wrapping it all up with a bow
In addition to enhancing and expanding the capabilities of the LaunchNotes platform, we could not have done it without growing our small but mighty team. We take very seriously our approach to connecting with and hiring not only the best talent for a given role but we look to hire the incredible individuals that will add to the diversity of our company and help us achieve our growth goals, both financially and culturally. Welcome to the team Adam, Alvin, Ashley, Chelsea, Greg, Jane, Sal, Sam, Steve, Teddy, and Viv.
Lastly, we're proud to say that we have invested heavily in our community engagement - we've hosted hundreds of product tours and workshops, launched an ongoing AMA series (our latest with John Cutler here), a podcast, a TikTok channel, and have grown our LaunchAwesome Slack community to help our customers and product colleagues stay up-to-date on trends, best practices, and the people leading the charge. 

So much to be grateful for as this year comes to an end! And this announcement finally comes to end.
Thank you and we look forward to growing, collaborating, and building with you in 2023!
Feedback is a gift!
Perhaps it goes without saying, but nothing we shipped in 2022 would have been possible without your amazing feedback! As always, we welcome any thoughts, questions, concerns, or feedback you may have. And encourage you to continue to engage with us just as much in the new year!
Until then, on behalf of our entire team: we wish each of you a restful, happy, and joyous Holiday season, and look forward to seeing you again in 2023!
All the details on the features we shipped in 2022
January: Custom footer 
February: Soc 2, Type 1 certification // Audit Log for Enterprise plans // Announcement templates // Feedback request form // Scheduled announcement upgrade 
March: Ideas for prioritization // Feedback inbox 
April: LaunchNotes control // Published-Ideas 
June: Editor v3 // Subscriber management upgrade //Feedback inbox organization // Publish ideas & enable voting // Hotwire page loading update 
July: Domain matching for project users // Quick snippets writing assistant // Linter improvements // Excerpt-only email notifications for announcements 
August: User domain matching // Idea show page voting history 
September: Bulk subscriber export //  Excerpt-only override //  Subscription unsubscribe and resubscribe
October: Bernie, your new AI assistant
November: AI-powered sentiment analysis // Domain and subscriber info panels // Analytics dashboard // AI-powered topic modeling for feedback // Analytics dashboard